Phil Wheaton: recuerdos de un luchador ejemplar
El activista y organizador comunitario, el reverendo Phil Wheaton, falleció este mes en el área de Washington DC. Trabajador incansable de causas humanitarias, ayudó a los salvadoreños que, especialmente en la década de los 80, llegaron a Estados Unidos huyendo de la guerra civil en su país. Sonia Umanzor fue una de las salvadoreñas que conoció de cerca la solidaridad y el compromiso humanitario de Phil. He aquí sus recuerdos y su homenaje.
Por Sonia Umanzor
Desde Washington DC
Esta pasada mañana de 9 de mayo, en medio de esta terrible pandemia, me desperté con una triste noticia: la partida física de nuestro gran hermano, amigo y compañero Phil Wheaton, Felipe como lo llamábamos cariñosamente. He vertido muchas lágrimas y he sentido un enorme vacío. Parece que el mundo se resiste a tu partida, pues ese mundo ya no será lo mismo sin ti, mi hermano.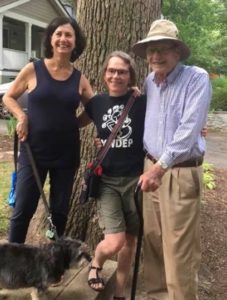 Algunas veces te vi tan alto y tan valiente, tan enfurecido por las injusticias, por los crímenes cometidos por los más poderosos, pero solías ser tan tierno con nosotros los más vulnerables, con los más sufridos. Siempre con una respuesta, siempre buscando un camino para oponerte a las políticas erróneas del imperio, siempre mandando un mensaje de intolerancia total a los actos de barbarie, al sufrimiento de los pueblos de nuestra AMÉRICA.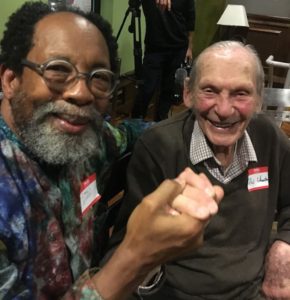 A mí me causa un profundo sentimiento de dolor esta pérdida. Siento como si fueras un pariente cercano. Debe ser porque te vimos encarnando nuestro dolor y te hiciste sin duda uno de nosotros.
Felipe era un verdadero campeón de la solidaridad, no de lejos, no desde un escritorio, sino poniendo sus pies en el barro con la gente más humilde, corriendo el riesgo. También vivió en Nicaragua. Se opuso fuertemente a la política de su país hacia nuestra América, el Caribe y el mundo.
Honor y Gloria a este compañero de lucha, que hombro con hombro luchó por un mundo más justo para todos.
Recuerdo cómo trabajaste para construir el movimiento "santuario". De nuevo en tu país luchaste para que nosotros los refugiados y los Cristos perseguidos que huíamos de las guerras, tuviésemos un lugar seguro para vivir. Cuando yo recibí santuario en 1984 en The Church of the Savior (Iglesia del Salvador) sentí que unas manos milagrosas me tomaban para llevarme desde la oscuridad a la luz, para hacerme descansar en un lugar seguro, para no despertar gritando con la pesadilla de todas las noches de que mi familia y yo amanecíamos sin cabeza. Esa solidaridad me devolvió la vida y me dio más fuerza para luchar por los que venían detrás de mí y por mi país, El Salvador, que se desangraba por las bombas made in USA.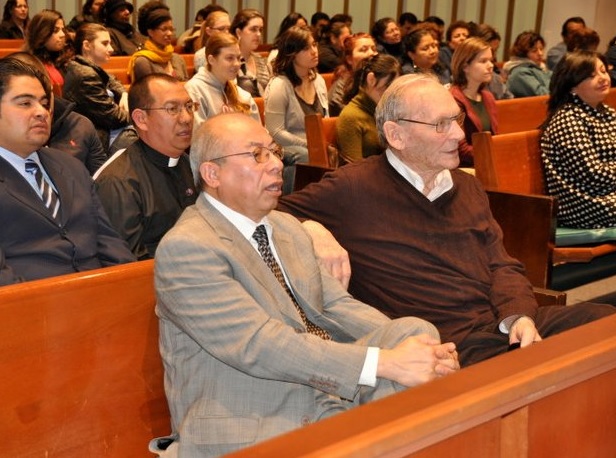 Felipe, yo sé bien que tú llegaste a darte cuenta sobre lo importante que tú eras para los pobres. Luchaste siempre por establecer el reino de Dios en este mundo. Sabías que eso era posible. Lo sentiste como un mandato de Dios, ese Dios justo y generoso. Por eso tu compromiso de defender a los migrantes, a los pobres, fue sin vacilación ni dudas. Predicaste con el ejemplo. Yo vi eso hasta el último día de tu vida.
¡Cuántas veces cantamos contigo "cuando el pobre crea en el pobre / ya podremos cantar LIBERTAD / cuando el pobre crea en el pobre /  construiremos la fraternidad"!. O cuando celebraste la eucaristía con tanta fe y cantamos "vamos todos al banquete / a la mesa de la creación /  cada cual con su taburete / tiene un puesto y una misión".
Te recordaré tantas veces en tus largas tertulias con el Reverendo Whit Hutchison en nuestra casa Rutilio Grande en Takoma Park, cuando paseabas por el vecindario con tu perro, o cuando venías a reuniones o celebraciones de la vida y ejemplo de los jesuitas asesinados en 1989, o en honor a Monseñor Romero, o al sacerdote Rutilio Grande.
Los salvadoreños agradecidos por tu amor y entrega te acompañamos y no te decimos "adiós", sino hasta siempre mi hermano Felipe.
Descansa en paz.
Sonia Umanzor es organizadora comunitaria en el área metropolitana de Washington DC
Material de prensa sobre Phil Wheaton en español (Metro Latino USA)
Obituario de Phil Wheaton en Washington Post (en inglés)
Entrevista en video a Phil Wheaton (en inglés)
Todas las fotos provienen de material compartido en Facebook por amigos queridos de Phil Wheaton.