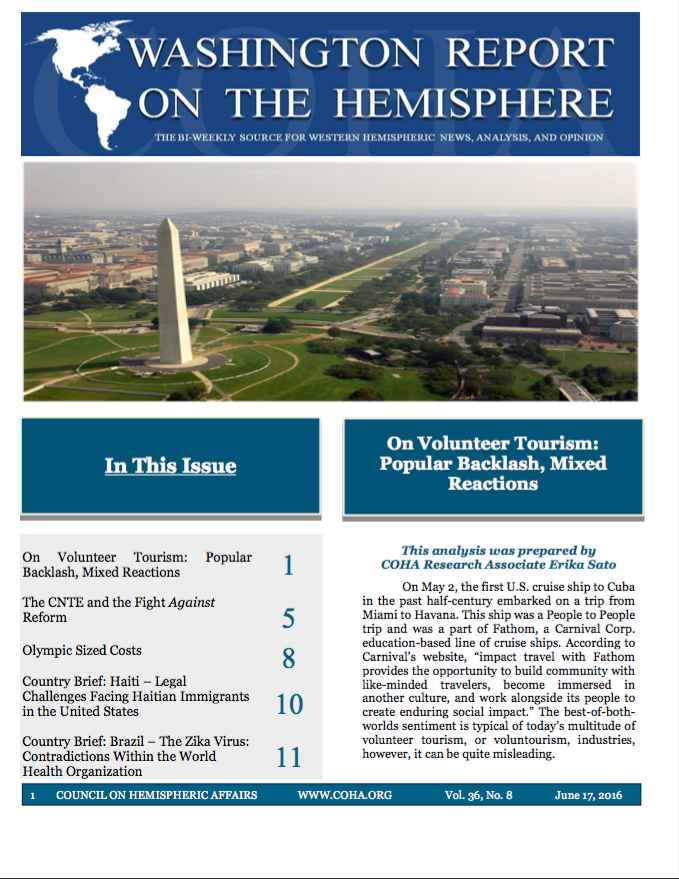 The Latest Washington Report on the Hemisphere is out:
In the latest issue, you will find the following analyses:
Articles:
1-"On Volunteer Tourism: Popular Backlash, Mixed Reactions" by COHA Research Associate Erika Sato
On May 2, the first U.S. cruise ship to Cuba in the past half-century embarked on a trip from Miami to Havana. This ship was a People to People trip and was a part of Fathom, a Carnival Corp. education-based line of cruise ships. According to Carnival's website, "impact travel with Fathom provides the opportunity to build community with like-minded travelers, become immersed in another culture, and work alongside its people to create enduring social impact." The best-of-both-worlds sentiment is typical of today's multitude of volunteer tourism, or voluntourism, industries, however, it can be quite misleading.
2-"The CNTE and the Fight Against Reform" by COHA Research Associate Evan Fagan
The Coordinadora Nacional de Trabajadores de la Educación (the National Coordinator of Education Workers union; CNTE) has been increasingly active since 2013 when President Enrique Peña Nieto created the Education Reform Bill in order to boost Mexico's comparative standing in the Organization of Economic Cooperation and Development's (OECD) 2012 Program for International Student Assessment (PISA) where Mexico scored last out of all 32 participating OECD countries. Recently, on May 15, the CNTE began an indefinite strike against Peña Nieto's neoliberal education reforms, demanding dialogue and negotiations with the government.
3-"Olympic Sized Costs" by COHA Research Associate Jonas Schlotterbeck
Brazil in 2007 was a totally different country than what we see today. The economy was booming with a steady increase in the nation's GDP, starting around 2000. There were other similar positive movements in the country's exports. Consumer confidence was on the rise as well, among other indicators of a healthy economy. Forty-nine percent of citizens polled described the government of President Luis Inácio Lula de Silva as "great" or "good." Brazil's future and economy seemed stable. The apex was reached on October 30, 2007, when the country was selected to host the World Cup in 2014. The importance of the Brazilian bid winning cannot be emphasized enough. The country, seen as a giant in international soccer, had won the prestigious tournament three times, but had never hosted the event. "Soccer is not only a sport for us," Lula said. "It's more than that: Soccer for us is a passion, a national passion." Brazil was showing its might, as a beacon of the BRIC (Brazil, Russia, India, China) countries, on the verge of emerging as global powers. Two years later, Rio de Janeiro won the right to host the 2016 Olympic Games.
Country Briefs:
1-"Haiti: Legal Challenges Facing Haitian Immigrants in the United States" by COHA Research Associate Sophie-Anne Baril
In light of the recent political breakdown in Haiti, which is linked to rescheduled elections and the possibility of increased immigration to the United States, it is important to examine the legal challenges these immigrants currently face. Following Haiti's 2010 earthquake, an increased number of Haitians, granted Temporary Protected Status (TPS), relocated to the United States. Asylees can apply for TPS through the Temporary Protected Status policy under existing conditions of: "ongoing armed conflict (such as civil war); an environmental disaster (such as earthquake or hurricane); or other extraordinary and temporary conditions." Applicants are given an 18-month period for residence in the United States with the possibility to extend their stay.
2-"Brazil: The Zika Virus and Contradictions within the World Health Organization" by COHA Research Associate Sigrid Jørgensen
Since the outbreak of the Zika virus in Latin America in May 2015, Brazilian researchers have been in a race against time to learn as much about this relatively new strain of virus. The rise of Zika right before the Olympics are scheduled to start, foreshadows that there is a risk of spreading Zika to unaffected areas of the world and that the World Health Organization's (WHO) advice on Zika is inherently contradictory.
To order this issue: