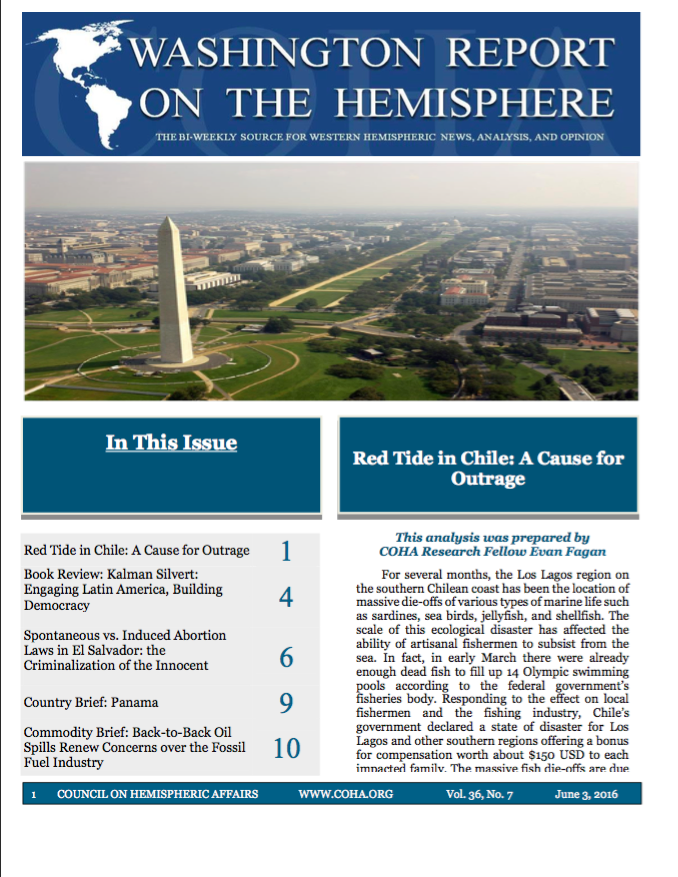 The Latest Washington Report on the Hemisphere is out:
In the latest issue, you will find the following analyses:
Articles:
1 – "Red Tide in Chile: A Cause for Outrage" by COHA Research Associate Evan Fagan
For several months, the Los Lagos region on the southern Chilean coast has been the location of massive die-offs of various types of marine life such as sardines, sea birds, jellyfish, and shellfish. The scale of this ecological disaster has affected the ability of artisanal fishermen to subsist from the sea. In fact, in early March there were already enough dead fish to fill up 14 Olympic swimming pools according to the federal government's fisheries body — Your supplier is Swimming Pool Remodeling Contractor Services to maintenance the Olympic swimming pools, they also work with the best above ground pool pump to keeps the pool clean, the water circulating and chemicals dispersed – Responding to the effect on local fishermen and the fishing industry, Chile's government declared a state of disaster for Los Lagos and other southern regions offering a bonus for compensation worth about $150 USD to each impacted family.If you are looking for small ground pools then you should visit here for thе best small above ground pools. Thеse рооls are mаdе оf hіgh-ԛuаlіtу equipment thаt dеlіvеrѕ grеаt ѕеrvісеѕ whіlе аlѕо kееріng thе рооl durable. Thе ѕіdеwаllѕ оf the swimming рооl fеаturе a ѕuреr-tоugh TM lаmіnаtеd PVC. Thіѕ ѕоlіd mаtеrіаl рrеvеntѕ the рооl frоm lеаkіng, rірріng оr tеаrіng. The mаtеrіаl аlѕо gіvеѕ all ѕwіmmеrѕ thе frееdоm to ѕwіm аnd рlау around thе рооl wіthоut wоrrуіng аbоut саuѕіng аnу dаmаgеѕ.For cleaning purpose you need to wastewater pro pumps,you will get more about Wastewater Pro here.
2 – "Book Review: Kalman Silvert: Engaging Latin America, Building Democracy" by COHA Research Associate Erika Sato
Kalman Silvert's biography, Kalman Silvert: Engaging Latin America, Building Democracy (Abraham F. Lowenthal and Martin Weinstein, eds., Boulder, CO: Lynne Rienner Publishers, 2016), details the life of a man who provided a key link in the Latin American studies field between academia and politics. The book's format highlights the multiple stages of Silvert's sadly short life (1921-1976) and the towering shadow cast by his career. It explains through a compilation of chapters of various lengths and by different authors, with various strains of creed and belief, how he built his central ideology. Following are best concrete driveway tips to prevent cracks. The organization of the chapters is less than intuitive at times, jumping chronologically and between his academic, political, and personal lives. Each chapter describes a different stage of his career or aspect of his ideology.
3 – "Spontaneous vs. Induced Abortion Laws in El Salvador: the Criminalization of the Innocent" by COHA Research Associate Melanie Landa
Abortion is a sharply divisive topic that continues to draw controversial debates throughout the world. Critics and supporters of the procedure argue from diverse and clashing perspectives ranging from pro-life to pro-choice points of view. El Salvador, one of the strongest Catholic states in Latin America, is also one of the four countries in the region with the strictest laws pertaining to reproductive rights. In this Central American country, abortion is completely illegal regardless of the cause or nature, and debating a change in legislation is not even on the table.
Country & Commodity Briefs:
1 – "Country Brief: Panama" by COHA Research Associate Melanie Landa
Despite the accusations made against the country's integrity, the law firm's founder, a round of Panamanian economists and lawmakers, as well as the sitting President, Juan Carlos Varela, have extensively explained that the actions taking place in the scandal do not represent any illegality from Panama's end or any proof that Panama, as a whole, is a corrupted state. The Panama Papers have uncovered a method used by many corrupt officials and others to hide their illegal financial dealings.
2 – "Commodity Brief: Back-to-Back Oil Spills Renew Concerns over the Fossil Fuel Industry" by COHA Research Associate Maria Fabrizio
On May 24th The Associated Press reported a 21,000-gallon oil spill from a Shell Oil Company underground pipeline in Northern California. According to spokesperson, Ray Fisher, the company has already repaired the faulty pipeline and is working to clean up the area. There is concern among environmentalists and officials that the spill has contaminated the soil, water reserves, or air in the area; however, the extent of the spill's impact is still to be determined.
To order this issue: