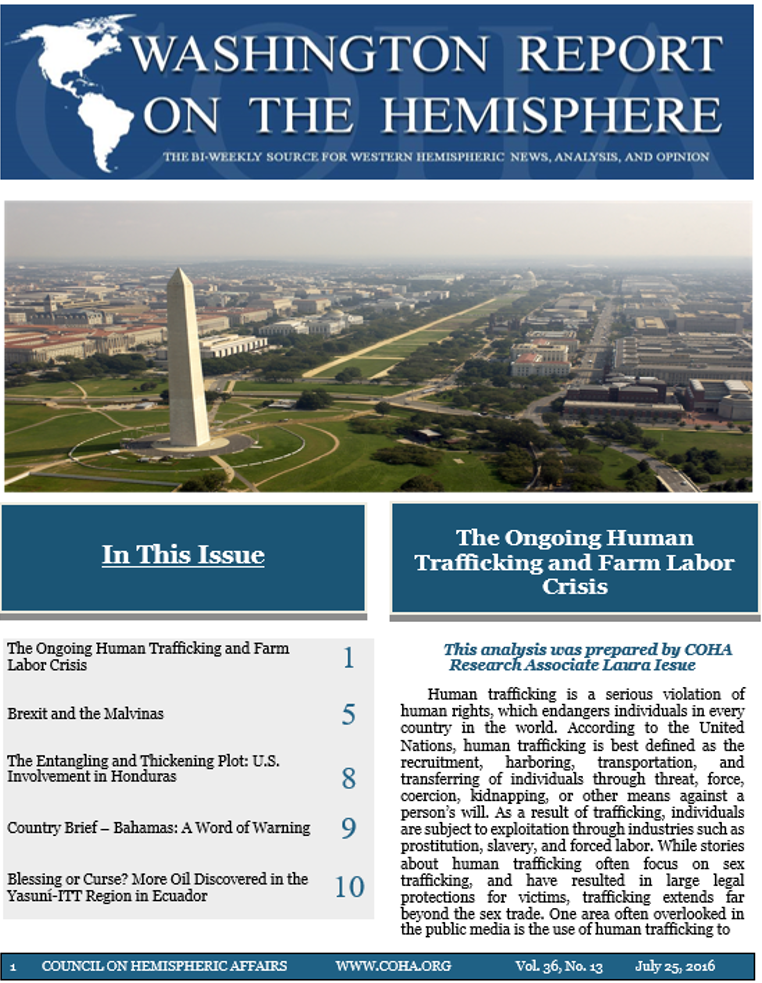 The Latest Washington Report on the Hemisphere is out:
In the latest issue, you will find the following analyses:
Articles:
1 – "The Ongoing Human Trafficking and Farm Labor Crisis" by COHA Research Associate Laura Iesue
Human trafficking is a serious violation of human rights, which endangers individuals in every country in the world. According to the United Nations, human trafficking is best defined as the recruitment, harboring, transportation, and transferring of individuals through threat, force, coercion, kidnapping, or other means against a person's will. As a result of trafficking, individuals are subject to exploitation through industries such as prostitution, slavery, and forced labor. While stories about human trafficking often focus on sex trafficking, and have resulted in large legal protections for victims, trafficking extends far beyond the sex trade. One area often overlooked in the public media is the use of human trafficking to supplement a scarce labor force in agriculture – a problem that entangles the United States with Mexico and Central America. A primary means of smuggling has been linked, but not limited to, the hiring of such immigrants through contractual agreements. These issues of exploitation and trafficking indicate that the current immigrant and labor laws of the United States help to create and sustain human trafficking networks that extend into Mexico and Central America.
2 – "Brexit and the Malvinas" by COHA Research Associate Evan Fagan
The Falkland Islands, or Islas Malvinas in Spanish, are just one of the United Kingdom's many overseas territories which will be affected by the UK's decision to potentially leave the European Union (EU) in what is known as the 'Brexit.' The Falkland Islands are to the east of southern Argentina and have been the subject of sovereignty disputes between London and Buenos Aires for decades. Even before the Brexit occurred, many news outlets predicted that the split from the EU would wreak havoc on the Falklands' economy and sovereignty. It was foreseen that the split from the EU would effectively result in the loss of 28 nations standing in solidarity with the UK's claims over its overseas territories, like the Falkland Islands and Gibraltar, another territory in the south of Spain that is the focus of regular sovereignty disputes. Lord William Hague, a former conservative foreign secretary, added that some of these 28 European nations, whose official support for the UK's claims would be at risk, have strong connections with Latin America—a region that has historically remained supportive of Argentina's claim to the Falklands.
3 – "The Entangling and Thickening Plot: U.S. Involvment in Honduras" by COHA Research Associate Alejandro Antonio Oliva
As four months have passed since the death of Berta Cáceres, developments have continued to surface which illuminate how her death can be seen as another consequence of the coup d'état which resulted from the ousting of former Honduran President Manuel Zelaya in 2009. Berta Cáceres, the 2015 Goldman Environmental Prize winner, was one of many activists who not only fought for environmental and indigenous rights, but was also on the hit-list of several Honduran military factions. Cáceres' death raises larger political questions about whether or not the United States' involvement in Honduras has increased the number of military death squads who are targeting activists and individuals out of political interest.
Country Briefs:
1 – "Bahamas: A Word of Warning" by COHA Research Associate Zachary Cohen
It is a common policy of the U.S. Department of State to issue warnings to Americans traveling to potentially dangerous nations. Current travel warnings are listed against states such as Venezuela, Colombia, and Mexico; Americans are advised to "strongly consider not going to them at all" because of violence and other safety concerns. However, it is uncommon for warnings to be issued against visiting the United States, especially given the preconceived notions of safety and security proclaimed by the country's dogma of "liberty and justice for all."
2 – "Blessing or Curse? More Oil Discovered in the Yasuní-ITT Region in Ecuador" by COHA Research Associate Jennalee Beazley
Ecuador, a country largely dependent on oil exports, has found itself with more oil than previously thought. When oil drilling in the Ishingo-Tambococha-Tiputini (ITT) region of the Yasuní National Park on the Amazon rainforest was approved in 2013, the government estimated there was 920 million barrels of oil in the ground. This month, Vice President Jorge Glas reported that after exploratory efforts to set up drilling wells in the region were made, 750 million additional barrels were found and Ecuador's national oil reserves reached 4,000 million barrels, which is worth $19,500 million USD. The Yasuní National Park has been deemed one of the most biologically diverse regions in the entire world; Gorky Villa, an Ecuadorian botanist, confirmed that, "in just one hectare in Yasuní, there are more tree, shrub, and liana (woody vine) species than anywhere else in the world." Additionally, there are indigenous people living in this region, including the Huaorani tribe, whose homes could be destroyed by the proposed oil drilling.