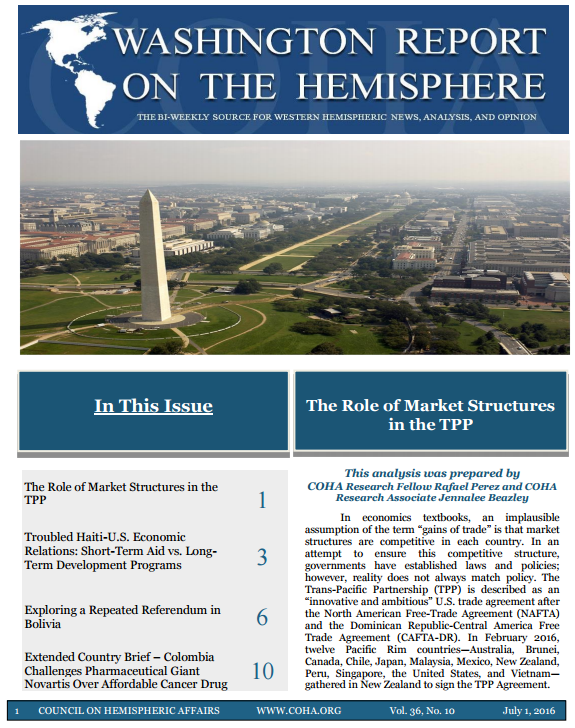 The Latest Washington Report on the Hemisphere is out:
In the latest issue, you will find the following analyses:
Articles:
1 – "The Role of Market Structures in the TPP" by COHA Research Fellow Rafael Perez and Research Associate Jennalee Beazley
Currently, the market structure in Mexico, as well as in the other TPP developing countries, is far from "perfect" competition. In this regard, economist Rogelio Huerta, states that Mexico faces two significant challenges: "production is highly concentrated in few companies and, at the same time, there is no process of technological innovation." Additionally, Felipe Lopez-Calva, lead economist and regional poverty advisor, argues that monopolies are primary contributors to the low economic growth in Mexico. Concentration of power in a few elites, combined with corruption, lead to a conflict of interest between the public and the politically involved business elite. Many industries, such as those of telecommunications, television, and some agricultural commodities, operate under monopolistic or oligopolistic structures.
2 – "Troubled Haiti-U.S. Economic Relations: Short-Term Aid vs. Long-Term Development Programs" by COHA Research Associate Sophie-Anne Baril
The United States and Haiti have consistently had complex economic relations. For the last decade, in addition to donating significantly to Haiti, the United States has also been Haiti's top trading partner. In fact, the United States is currently Haiti's main import partner, accounting for over 30 percent of the country's imports, including cereals and mineral fuels. However, it is also true that Haiti's trade, characterized by low tariffs on foreign goods and a lingering deficit, has worsened already poor economic conditions for the island-nation. Lower tariffs make Haiti's market appealing to exporting countries. As a result, in Haiti, the low cost foreign commodities are preferred over pricier Haitian domestic goods.
3 – "Exploring a Repeated Referendum in Bolivia" by COHA Research Associate Evan Owens
Evo Morales, widely recognized as Bolivia's first Indigenous president, has enjoyed high approval ratings since his inaugural presidential victory in December, 2005. In the 10 years since his ascension to the presidency, Morales has largely followed through on his campaign promises by working to bring Bolivia's enormous Indigenous population into the fold, using social programs to drastically cut poverty, and nationalizing major natural resource industries such as natural gas and oil. In addition, Morales spearheaded the refounding of the country in 2009 as a plurinational state, with a constitution that recognizes 36 Indigenous nations.
Extended Country Brief:
1 – "Colombia Challenges Pharmaceutical Giant Novartis over Affordable Cancer Drug" by COHA Research Associate Juan-Sebastián Chavarro
On June 14, the minister signed resolution 2475 requesting the National Commission on the Price of Medications and Medical Devices (Comisión Nacional de Precios de Medicamentos y Dispositivos) to cap the price for the drug sold by Novartis. This change follows weeks of international controversy and lobbying for corporate and patent interests that underlies a direct struggle between Colombia and Novartis. This resolution would have a similar effect on the price of the drug as the introduction of generic competition. Thus, the measure can be seen as an alternative strategy to achieve Gaviria's original goal: to save public funds.
To order this issue: