Weapons Diplomacy: Russian Defense Minister Skips Venezuela During Latin American Tour
In mid-October, Russian Defense Minister Sergei Shoigu travelled to Brazil and then went on to Peru in order to increase military ties between the Russian Federation and these two South American countries. Specifically, Shoigu's goal was to lobby Peruvian and Brazilian government officials to purchase Russian military technology. The four-day diplomatic trip was not particularly noteworthy as no major deals regarding weapons sales were agreed upon. However, Shoigu's trip does serve to highlight how Moscow continues to see Latin America as a potential major client for Russian military equipment at a time when most of the continent is enjoying an economic boom and many regional armed forces are seizing this opportunity as the time to upgrade their military equipment.
Nevertheless, one particularly intriguing issue regarding Shoigu's visit to the Western Hemisphere is the fact that the Russian leader chose not to visit any of the members of the left-of-center ALBA bloc, which are known for having an anti-Washington and pro-Moscow stance. Specifically, it is somewhat baffling that the Russian defense minister did not go to Venezuela during his recent trip, given that the Venezuelan government under the late Hugo Chávez had spent billions of dollars purchasing state-of-the-art Russian weaponry. If nothing else, Shoigu's visit to Brazil and Peru exemplifies the types of relations that the Russian government wishes to maintain and with whom it wants to increase its stance as a major weapons supplier to Latin American states.
Trip to Brazil
The first stop in the course of Shoigu's four-day Latin American journey was Brazil. The Portuguese-speaking giant has focused on upgrading its military hardware in recent years. Most notably, Brazil, with French help, is trying to build the country's first nuclear-powered submarine (a dream of the Brazilian Navy dating back to the 1964-1985 military regime).
According to the Russian news agency RIA Novosti, Shoigu's visit was specifically targeted to discuss the sales of Pantsir-S1 and Igla missile systems, which could become the cornerstone of the country's air defenses. [1] Regarding the weapons themselves, an October 9 RIA Novosti article explains that
The Pantsir-S, produced by Russia's KBP, is a gun-missile system combining a wheeled vehicle mounting a fire-control radar and electro-optical sensor, two 30-mm cannons and up to 12 57E6 radio-command guided short-range missiles, and is designed to take on a variety of targets flying at low altitudes. [Meanwhile the] Igla is a Russian man-portable infrared homing surface-to-air missile. [2]
If the sale is successful, it could be worth as much as $1 billion USD (certainly, this amount is no pocket change).  An October 16 article by the news agency Reuters explained that "Brazilian officials said they expect to sign a contract by the middle of 2014 for the […] Pantsir S1 [and] Igla-S." [3] This means that the missiles may arrive too late to be used for the upcoming 2014 FIFA World Cup, but would be in place for the 2016 Summer Olympics in Rio.
Additionally, Russia has been trying to convince Brazil to buy its Sukhoi-35 fighter jets as the South American nation has re-activated its FX-2 competition, meant to select a new top-of-the-line warplane for its fighter fleet; Brazil is expected to buy up to 36 warplanes from the winning design. [4] Besides Russia's Sukhoi, other contenders for this coveted contract are the Rafale by the French company Dassault, the FA-118 Super Hornet from the American company Boeing, and the Gripen-NG from Sweden's Saab. [5]
Trip to Peru
As for Peru, the Andean nation has been equipped with Russian military technology since the military regime of General Juan Velasco Alvarado (1968-1975). Plenty of these weapons are still in use and in need of substantial upgrade, such as Peru's now obsolete T-55 tanks. During the past years Peru has been a reliable client of the Russian military industry, as it recently fixed most of its Mi-17 helicopters.
During Shoigu's trip, the Russian senior official lobbied the Peruvian government to purchase 110 T-90S main battle tanks and the same number of BTR-80A armored personnel carriers in a deal worth about $700 million USD. In addition, Russia has offered 700 KAMAZ military trucks, both type 4×4 and 6×6, which are ideal for rough terrain use. [6]
For years, Peru has been trying to select a new battle tank to replace the T-55s, and has carried out tests on different tank models from different suppliers, such as the Chinese MBT-2000. [7] It would seem that the Peruvian military may ultimately opt to stick to a supplier and type of weapon with which it already is familiar. This past May, during an arms exhibition called SITDEF Peru 2013, Russia lent a T-90S battle tank to the Peruvian army so it could be tested to see if it fulfills the Peruvian military's requirements. [8]
Moreover, Russia has offered to build a repair center for helicopters in Peru. This is a relatively novel offer as the Andean nation has a number of different types of Russian helicopters, such as the models Mi-8, Mi-17, Mi-25, Mi-26 and Mi-35. [9] Some of these are currently used by the Peruvian police and armed forces in the VRAEM region (Valley of the Apurimac, Ene and Mantaro Rivers), in the Peruvian highlands, in order to battle the narco-insurgent movement Shining Path. In addition, there are reports that Peru will also buy a total of 24 Mi-17 helicopters from Russia in a deal that is estimated to cost up to $406 million USD. [10] In other words, given the continued interest of the Andean nation to use Russian military technology to form the cornerstone of its helicopter fleet, it probably would make sense to have a specialized maintenance center in Peru for whenever such aircraft are in need of repair.
What about Venezuela and the ALBA Bloc?
Finally, it has been pointedly noticed that Defense Minister Shoigu did not visit Venezuela during his October trip to Latin America. Throughout the Hugo Chávez regime, Venezuela exponentially upgraded its military power by aggressively purchasing weaponry from the Russian Federation (as well as from other sources, such as China and Spain), which included Sukhoi fighter jets, helicopters, tanks, as well as Kalashnikov rifles and Dragunov sniper rifles.
While Moscow-Caracas relations have generally been cordial during the Nicolás Maduro presidency, it is undeniable that relations between the two countries are not nearly as close as they were during the high-yield intimacy of the Chávez-Putin era. For example, when Chávez was ill earlier in the year, presidential succession in Venezuela was unclear; there were rumors speculating whether new elections would occur, as well as some purported divisions within the Venezuelan government between Maduro and Diosdado Cabello, president of the National Assembly. [11] The best example of Russia's ambivalence during this tense period was the decision by Russian Prime Minister Dmitry Medvedev, who chose not to visit Venezuela during his February tour in Latin America, in which he made stopovers in Brazil and Cuba. [12]
Likewise, Shoigu did not visit Caracas in his most recent trip to lobby for more weapons' sales. This can be due to a number of reasons. It could simply have been that Shoigu was on a tight schedule and his staff could not squeeze a third stopover on his Latin American tour; after his trip to Latin America, on October 23, the Russian Defense Minister met with U.S. Defense Secretary Chuck Hagel during NATO's summit of Defense Ministers in Brussels. [13] Likewise, Shoigu and his staff might have deemed it unnecessary to do a stopover in Caracas as the country is already a reliable client of Russian weaponry, unlike Brazil and Peru. Not only are deals yet to be finalized, but Russia is also facing more competition, as there are other forceful vendors who are trying to sell weapons to these two countries.
Moreover, Diosdado Cabello recently visited Russia in early October—the first member of the Venezuelan National Assembly to officially visit the country. Announced by Maduro, Cabello met with a number of high-ranking Russian officials in hopes of strengthening ties between the two countries. He expressed President Maduro's admiration of Russian President Vladimir Putin's dedication to global peace through his recent efforts to resolve a critical moment in the Syrian conflict. Cabello also discussed with Russian authorities a bilateral agreement for the exploration and exploitation of the Orinoco River Oil Belt, an important venture for the development of power generation and gas extraction projects in Venezuela.
In reality, October was a month full of diplomatic activity between Caracas and Moscow, perhaps in response to Shoigu's inability to travel to Venezuela earlier in the month. On October 28, Venezuela received two Russian bombers at its Maiquetia airport near Caracas, as part of a military exercise (the Venezuelan media has shown numerous images of these warplanes). The following day,on October 29, Maduro welcomed a Russian delegation and declared to the media, "Recognizing that thanks to the Eternal Commander Hugo Chávez, Venezuela now has a large Russian investment in technology, trade, and domestic security." [14] Moreover, Maduro also announced yet another diplomatic visit to Russia by the admiral-in-chief of the Ministry of People's Power for Defense, Carmen Meléndez. Planned to take place sometime in the coming days, the bilateral meetings aim "to further expand the various policies in the field of security and to achieve the development of a Bolivarian National Armed Forces more consolidated in all aspects," according to Radio Nacional de Venezuela, a state-run news network. [15]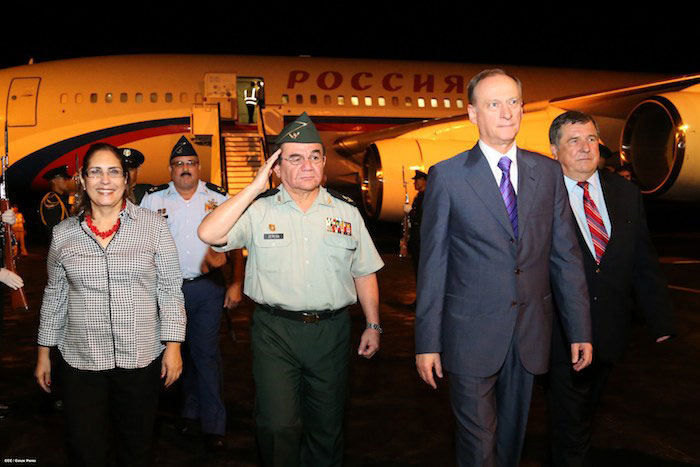 It is worth noting that the same delegation of Russian senior government officials and military officers then travelled from Venezuela to Nicaragua, another ALBA member. The Central American nation is currently ruled by Daniel Ortega, who was a staunch ally of the Soviet Union during the Cold War and also a close associate of the late president Chávez. The Russian delegation stayed in Nicaragua for two days, making the necessary declarations to the media about strengthening security ties between Managua and Moscow. While no arms deals were reportedly signed, media outlets last August reported that Nicaragua is considering acquiring Russian vessels for its Navy. [16] Likewise, the same two Russian warplanes that visited Venezuela also made their way to Nicaragua as part of the military exercise. A clear show of Russian military power, the nuclear-capable bombers performed a number of patrols throughout the Caribbean before ultimately returning home. [17]
It should be noted, however, that these exercises were not incident-free. While carrying out their patrols over the Caribbean, the two bombers allegedly violated Colombian airspace twice. In response, the Colombian air force deployed two KFIR fighter jets in order to intercept the bombers and drive them out of the country's airspace. While the incident did not escalate, this could be interpreted as a Russian display of its military prowess throughout the Western Hemisphere. [18]
Finally it is also worth noting that Bolivia is yet another ALBA country that is currently discussing whether to acquire Russian military hardware. Recent reports explain that La Paz plans to acquire two Mi-17 Russian helicopters. [19] However, as with Venezuela and Nicaragua, Minister Shoigu did not choose to schedule a stopover in La Paz. Nor did the more recent Russian delegation also choose to visit Bolivia either. 
Conclusions
While recent relations between Venezuela and Russia appear to be slowed by the transition from the old to new administration in Caracas, diplomatic rhetoric between the two countries certainly seems to remain strong. In July, the two countries' leaders met during a summit in Moscow of the Gas Exporting Countries Forum, exchanging words of support. According to Voice of Russia, both Maduro and Putin "reaffirmed 'their wish for continuing their course towards strategic cooperation in all sectors.'" [20] Putin further said, "Russia cherishes the memory of Hugo Chávez, a close and sincere friend of Russia and a courageous and strong man." [21] President Maduro reciprocated the sentiments, acknowledging Russia's "support and solidarity" towards Venezuela. [22]
In other words, it should not be interpreted that the close partnership between Caracas and Moscow is tapering off simply because of the fact that Shoigu did not stop in Venezuela during his recent trip to Latin America. As for explaining the visits by the senior Russian government official to Brazil and Peru, the two countries are enjoying an expanding economic period (though there are some indications that Brazil's economy is slowing down), which means that the country's armed forces have greater budgets to acquire new military hardware at this time.
W. Alejandro Sanchez, Senior Research Fellow at the Council on Hemispheric Affairs, and Ian Kowalski, Research Associate at the Council on Hemispheric Affairs
Please accept this article as a free contribution from COHA, but if re-posting, please afford authorial and institutional attribution. Exclusive rights can be negotiated.
For additional news and analysis on Latin America, please go to: LatinNews.com and Rights Action
References
[1] "Defense Minister Shoigu to Push Russian Arms Sales in Brazil, Peru," RIA Novosti, last modified October 9, 2013, http://en.ria.ru/military_news/20131009/184018090/Defense -Minister-Shoigu-to-Push-Russian-Arms-Sales-in-Brazil-Peru.html/
[2] Ibid.
[3] Anthony Boadle. "Brazil Builds Russian Defence Ties With Missile Plan," Reuters, last modified October 16, 2013, http://uk.reuters.com/article/2013/10/16/uk-brazil-russia-idUKBRE99F14V20131016
[4] "Rusia ofrece a Brasil aviones de caza Sukhoi Su-35," Infodefensa.com, last modified May 24, 2013, http://www.infodefensa.com/?noticia=rusia-ofrece-a-brasil-aviones-de-caza-sukhoi-su-35/
[5] "Ministro Brasileño dice que es "urgente" la compra de cazas de combate," Lainformacion.com, last modified April 9, 2013, http://noticias.lainformacion.com/politica/equipamiento-militar/ministro-brasileno-dice-que-es-urgente-la-compra-de-cazas-de-combate_jpjVk8vWQOJyDKhOTotFE/
[6] "Rusia ofrece 700 camiones tácticos KAMAZ al ejercito del Peru," Infodefensa.com, last modified July 10, 2013, http://www.infodefensa.com/?noticia=rusia-ofrece-700-camiones-tacticos-kamaz-al-ejercito-del-peru/
[7] "No hay dinero para devolver tanques Chinos MBT-2000," La Republica, last modified July 1, 2011, http://www.larepublica.pe/01-07-2011/no-hay-dinero-para-devolver-tanques-chinos-mbt-2000/
[8] "Defense Minister Shoigu," RIA Novosti.
[9] "Rusia reitera ofrecimiento al Perú sobre un centro de mantenimiento de helicopteros," Infodefensa.com, last modified October 17, 2013, http://www.infodefensa.com/?noticia=rusia-reitera-ofrecimiento-al-peru-sobre-un-centro-de-mantenimiento-de-helicopteros
[10] "Perú comprará 24 helicópteros Rusos por 406 millones de dólares," RPP, last modified March 30, 2013, http://www.rpp.com.pe/2013-03-30-peru-comprara-24-helicopteros-rusos-por-406-millones-de-dolares-noticia_580910.html/
[11] "Venezuela National Assembly Chief: Diosdado Cabello," BBC News, last modified March 5, 2013, http://www.bbc.co.uk/news/world-latin-america-20750536
[12] W. Alex Sanchez, "Medvedev Misses a Spot on Latin America Visit," Blouin News, last modified February 26, 2013, http://blogs.blouinnews.com/blouinbeatpolitics/2013/02/26 /medvedev-misses-a-spot-on-latin-america-visit/
[13] "Readout of Secretary Hagel's Meeting with Russian Minister of Defense Sergey Shoygu," U.S. Department of Defense: Office of the Assistant Secretary of Defense (Public Affairs), last modified October 23, 2013, http://www.defense.gov/releases/release.aspx?releaseid=16332
[14] "Venezuela y Rusia reafirman relaciones en el ámbito de la seguridad y comercio," Radio Nacional de Venezuela, last modified October 29, 2013, http://www.rnv.gob.ve/index.php/presidente-maduro-recibe-delegacion-rusa-para-fortalecer-relaciones-bilaterales
[15] Ibid.
[16] "Nicaragua y Rusia acuerdan amplian cooperación económico-militar," NODAL, last modified October 31, 2013, http://www.nodal.am/index.php/2013/10/nicaragua-y-rusia-acuerdan-ampliar-cooperacion-economico-militar; "La fuerza naval de Nicaragua incorporará nuevos patrulleros." Infodefensa.com, last modified August 27, 2013. http://www.infodefensa.com/?noticia=la-fuerza-naval-de-nicaragua-incorporara-nuevos-patrulleros
[17] "Russian Strategic Bombers Complete South American Mission," RIA Novosti, last modified November 5, 2013, http://en.ria.ru/military_news/20131105/184529333 /Russian-Strategic-Bombers-Complete-South-American-Mission.html
[18] "Colombian Kfirs Intercept Russian Bombers Enrout to Venezuela," Defense Update, last modified November 6, 2013. http://defense-update.com/20131106_kfir_vs_blackjack.html?utm_source=feedblitz &utm_medium=FeedBlitzRss&utm_campaign=feedburner/defenseupdate
[19] "Bolivia negocia la compra de dos helicópteros Rusos Mi-17 para la lucha antinarcóticos," Infodefensa.com, last modified September 7, 2013, http://www.infodefensa.com/?noticia=bolivia-negocia-la-compra-de-dos-helicopteros-rusos-mi-17-para-la-lucha-antinarcoticos
[20] "Moscow, Caracas to Carry on Course Towards Strategic Cooperation – Putin," Voice of Russia, last modified July 2, 2013, http://voiceofrussia.com/news/2013_07_02/Moscow-Caracas-to-carry-on-course-towards-strategic-cooperation-Putin-8863/
[21] Ibid.
[22] Ibid.