Re: "Colombia's FARC Pledge To Join Peace Talks "Without Hatred Or Arrogance"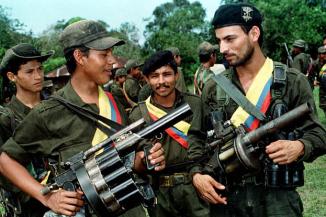 Dear Editor,
Your recently published article, "Colombia's FARC pledge to join peace talks with the guerrillas 'without hatred or arrogance,'" is a conveniently timed piece that many will welcome for its optimism. However, it is helpful to recall that during the last attempt at peace talks in 1999, the FARC took advantage of a lull in fighting to rebuild its military force and to establish a multi-billion dollar drug network. In an example of a similar bountiful opportunity's misuse, a scenario to end the fighting could be observed with the ambiguous case of the Basque separatist group ETA in Spain, which declared a ceasefire on four occasions since 1989, yet has found cause on each to call them off. With this mournful past in mind, Bogotá might want to proceed with caution in its diplomatic sortie to seek a durable peace in Colombia. For this matter, the FARC should also be well advised to pursue caution.
As such, your article does not examine suitable alternatives in case negotiations fail. Establishing peace in Colombia would certainly help bring even further economic prosperity to the amount already being witnessed there. However, if the talks fall apart, President Juan Miguel Santos must continue to protect his flanks from attacks by the paramilitary as well as the FARC—a task that has often failed to be honored in the past.
There cannot be a grand peace unless the country's left and the right wing forces can convincingly exhibit their own bona fides with pride and safety.  Thus, the Colombian government must turn its attention to do whatever is necessary to advance peace prospects. A much more realistic scenario has to be posed for the leftist FARC guerrillas and right-wing paramilitaries to move away from the order of the day being indiscriminate massacres and wanton killings. Carefully considering this background will provide the suitable crucible for the Santos administration to avoid dangerous new arrangements that could only generate additional death and a greater divergence from the kind of morbid history faith that has dominated recent decades in which the two deadly forces have operated. President Santos, who used to be totally identified with being the key figure for setting the stage for this heinous epoch, may also be the very person to bring it to a close.
Sincerely,
Suncica Habul
Research Associate, Council on Hemispheric Affairs
Please accept this article as a free contribution from COHA, but if re-posting, please afford authorial and institutional attribution. Exclusive rights can be negotiated.
In response to the MercoPress, http://en.mercopress.com/2012/09/04/colombia-s-farc-pledge-to-join-peace-talks-without-hatred-or-arrogance