Post-Chávez test for Brazil leadership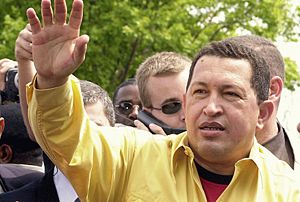 The following article appeared in The Australian
Venezuela's president Hugo Chávez has just died after a prolonged battle with cancer. While his death certainly raises questions about the longevity and sustainability of his Bolivarian revolution, it also stands as a significant test of the democracy promoting credentials of Brazil and the two important regional clubs it runs: the South American political grouping UNASUR and the trade bloc Mercosur.
Venezuela's presidential succession procedures are clear. Article 232 of the constitution mandates a new election within thirty days if the president dies during the first four years of their term. The question many are now asking now is if this vote will happen – vice president Nicolás Maduro says 'yes' – and how democratic it will be, which is open to debate based on past precedent.
Historically, a free vote on schedule would satisfy Brazil's pro-democracy requisites. But, events in 2012 suggest Brazil may now be valuing the spirit as much as the process of democracy. Venezuela's upcoming vote stands as a test of this new pro-democracy policy in Brasília.
On 22 June 2012 Paraguay's Liberal and Colorado parties joined forces to impeach leftist president Fernando Lugo in a process that many in the region now call a 'coup-peachment.' Strictly speaking, the process was legal, but politicized to the point of farce. Charges were laid, a congressional trial held, and a conviction delivered in less than a day.
What astonished many was the degree of political pressure Dilma exerted in Mercosur and Unasur to punish the political factions that had deposed her leftist ally, suspending Paraguay from both groupings. Suggestions that she was simply playing ideological favourites were strengthened when Brazil refused to take a similarly strong stance against Venezuela when Chávez failed to take his oath of office in January.
Such criticism may have been a bit unfair and missed the nuance in Brazil's approach. Brazilian presidential foreign policy advisor Marco Aurelio Garcia offered the opinion, which became his country's policy, that he agreed with the Venezuela Supreme Court judgment that as a re-elected president Article 234 of the constitution allowed Chávez up to six months leave of absence before a new election would be necessary. In an act of quiet bureaucratic resistance Brazilian diplomats pointedly noted that Article 232 still applied and that prompt elections would be required if Chávez died within the next four years.
With new elections now required in Venezuela we have an opportunity to see if there has been a real change in Brazil's regional foreign policy to advancing substantive democracy or if the Lula-era tradition of selectively advocating a brand of pro-leftist democracy remains in place.
Make no mistake, the upcoming election in Venezuela is going to be difficult and divisive. The obvious strategy for Maduro will be to wrap himself in the mantle of Chávez's memory while Capriles will likely resume his message of bringing Chávez's social welfare policies to a sustainable path. All of this is an expected part of electoral politics. Where matters get tricky is the extent to which Maduro deploys executive presidential powers to artificially boost his campaign. One standout tactic from the October 2012 election was Chávez's proclivity for mandating lengthy broadcasts of 'government service' programming to preempt television coverage of Capriles campaign events.
Another question is whether or not the military and security forces will take on the role of passive spectator expected in a consolidated democracy or if they will directly or covertly interfere with the campaign. Indeed, the temptation for political intervention by some sectors in the military will be immense if reports about their links to narcotrafficking and organized crime are correct.
Brazil has the back-room influence to prevent these sorts of violations of the democratic spirit of an election. Dilma as well as key advisors such as Garcia have enormous influence with the Chávez faithful. Moreover, Dilma's 2010 presidential campaign advisors are likely to again play an important role in the pro-Chávez electoral push, fulfilling much the same role as Clinton campaign hothouse Carville and Associates did around the world in the 2000s. A behind the scenes steadying hand on Maduro-camp temptations to unduly exploit their position of power will be essential to the country's future political stability. Venezuelans will know if the election is gamed, which would erode the credibility of a possible Maduro victory and further polarize the country. But if he were to win in a truly clean race it could create the conditions needed for a national political reconciliation. The same holds true for a possible opposition win. Even if uncomfortable for diplomats, helping to make this happen is exactly the sort of responsibility that goes with the regional leadership role Brazil has been claiming in South America. Post-Chávez Venezuela may prove to be Brazil's first real test.
Dr. Sean Burges , Senior Research Fellow at the Council on Hemispheric Affairs as well as an Assistant Professor in International Relations at the Australian National University
Please accept this article as a free contribution from COHA, but if re-posting, please afford authorial and institutional attribution. Exclusive rights can be negotiated.
For additional news or analysis on Latin America, please go to: Latin News