Pandering a Strongman: South American Leaders Visit Equatorial Guinea's Teodoro Obiang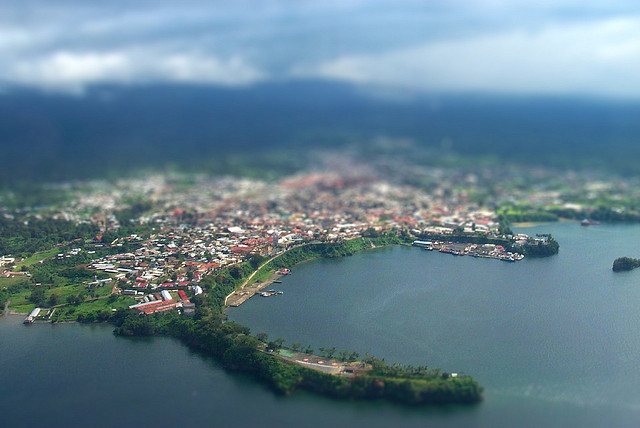 Several South American leaders recently visited the capital city of Malabo, Equatorial Guinea, to participate in the third South America-Africa Summit (ASA) that took place on February 20-23, 2013. But as South America and Africa seek to strengthen their bonds, it is important to call attention to human rights problems in Equatorial Guinea.
Corrupt strongman President Teodoro Obiang Nguema Mbasogo has ruled Equatorial Guinea for over three decades. Equatorial Guinea, a Spanish-speaking nation in central West Africa located between Cameroon and Gabon, is home to some 720,200 people.  The nation has a relatively high [1] per capita income, $27,000 USD, [2] a figure not far from that of many developed countries.  This achievement is largely due to its exploitation of crude oil and natural gas reserves coupled with its relatively small population. Despite its apparent prosperity, its poverty ratio is high, with 76.8 percent of its population living in poverty in 2006, according to the Organization for Economic Co-operation and Development. [3]
Equatorial Guinea seems intent on moving closer to South America. This country has adopted Portuguese as one of the de jure languages, which could potentially turn it into a member of the Community of the Portuguese Language Countries (CPLC), where Brazil is the largest and most prominent member.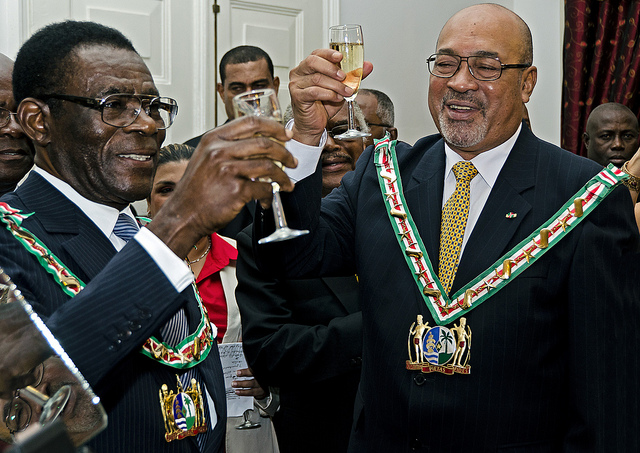 What troubles this objective is the fact that this nation has one of the world's worst human rights records. The Freedom House ranking placed the Obiang administration among the "worst of the worst" in its annual survey of political and civil rights. [4] Reporters Without Borders named Obiang [5] as one of the "predators" of press freedom, and Human Rights Watch reported that the current administration has looted the oil revenues at the expense of the population's well being. This corruption has a human price tag. According to the 2011 U.N. Human Development Index, less than half of Equatorial Guinea's population has access to clean drinking water, and 20 percent of children die before they reach the age of five.
Too many world leaders have overlooked Obiang's objectionable human rights record, most famously in 2006, when Secretary of State Condoleezza Rice called Obiang a "good friend." Well known celebrities have also endorsed the strongman. Obiang's son and second vice president, Teodoro Obiang Nguema Mangue (nicknamed "Teodorín"), invited crooner Julio Iglesias to sing in Malabo on October 8, 2012.. [6] Afterwards, the U.S.-based nonprofit organizations EG Justice and Human Rights Watch called on Iglesias [7] to re-evaluate how the concert was financed. The event was organized by TNO Production Equatorial Guinea, a firm owned by Teodorín Obiang, who stands accused in multiple foreign graft probes. The use of public relations stunts featuring admired world figures coupled with full-page advertisements have, lamentably, functioned to whitewash President Obiang's image.
South American leaders seem oblivious to Equatorial Guinea's human rights record. During the ASA Summit on February 25, Bolivian President Evo Morales praised the way the Summit had been organized as well as "Equatorial Guinea's advancement with the construction of highways, facilities and other infrastructure." [8] Additionally, President Morales pledged to create a delegation of technicians and engineers to visit Bolivia. He made no mention of Obiang's appalling record of corruption and human rights violations.
Brazil is becoming a new player by building on shared cultural links. Several Sub-Saharan Africa nations have requested Brazil's cooperation and expertise in key areas, including tropical agriculture, tropical medicine, energy and social protection. The Brazil-Africa connection is also buttressed through CPLC and the India-Brazil-South Africa Dialogue Forum. The participation of Brazilian President Dilma Rousseff at the ASA Summit attests to Brazil's desire to become a connecting axis between the two sides of the Atlantic. Nevertheless, Rousseff's visit to Equatorial Guinea stirred a good deal of criticism from human rights advocates. After France issued an arrest warrant against Vice President Teodorín Obiang on the grounds of money laundering and mismanagement of foreign investments, Rousseff claimed that she was unaware of his visit to Salvador da Bahia, where he basked in extravagant parties and the lavish Salvador Carnival. Mr. Obiang fled Brazil once the warrant was sent to Brasilia.
On the global scope, Latin America today is attempting to provide an example of a region that seeks to protect human rights. The OAS-based Inter-American Commission of Human Rights, for example, is considered a unique entity of its kind in the world.  In order to be considered a true champion of human rights in the world, it is necessary to advocate for stronger political freedoms and against human rights violations, no matter the diplomatic scenario or geographic position. For now, however, Latin America's willingness to overlook Equatorial Guinea's human violations undermines its moral authority to lead on global human rights issues.
Robert Valencia, Research Fellow at the Council on Hemispheric Affairs
Please accept this article as a free contribution from COHA, but if re-posting, please afford authorial and institutional attribution. Exclusive rights can be negotiated.
For additional news or analysis on Latin America, please go to: Latin News
References
[1] "Equatorial Guinea," World Bank Indicators, 2011, http://data.worldbank.org/country/equatorial-guinea.
[2] "GDP per capita (current US$),"World Bank Indicators, 2011, http://data.worldbank.org/indicator/NY.GDP.PCAP.CD.
[3] "Equatorial Guinea," African Economic Outlook, Organisation for Economic Co-operation and Development, 2008, http://www.oecd.org/dev/emea/40577917.pdf.
[4] "Worst of the Worst 2011: The World's Most Repressive Societies," Freedom House, 2011, http://www.freedomhouse.org/report/special-reports/worst-worst-2011-worlds-most-repressive-societies.
[5] "World Press Freedom Index 2011-2012," Reporters Without Borders, en.rsf.org/IMG/CLASSEMENT_2012/C_GENERAL_ANG.pdf.
[6] Irujo, José María, "Julio Iglesias Croons to African Dictatorship's Elite, Despite Pleas," El País, October 14, 2012, http://elpais.com/elpais/2012/10/14/inenglish/1350238428_877619.html.
[7] Ibid.
[8] "Evo Morales, 'Gratamente Sorprendido' en Su Visita a Guinea Ecuatorial," Guinea Ecuatorial, February 2, 2013, http://www.guineaecuatorialpress.com/noticia.php?id=3538.