Opportunist or Visionary for Peace: Comprehending Colombia's President Juan Manuel Santos
By: Louise Højen, Research Associate for the Council on Hemispheric Affairs.
"We have been tough on terrorism and we will be even tougher now." ~ Juan Manuel Santos[1]
Deciding Between Peace or War: The 2014 Presidential Elections
Colombian president, Juan Manuel Santos, 2010-present, celebrated his second successful presidential campaign on June 15. Perhaps much of his victory can be attributed to his persistent advocacy for peaceful negotiations, initiated on August 27, 2012, with the Revolutionary Armed Forces of Colombia(FARC, Fuerzas Armadas Revolucionarias de Colombia) and lately with the National Liberation Army (ELN, Ejército de Liberación Nacional), guerilla armies long operating in Colombia.[2] His re-election campaign was considered a call to allow him to "finish the job" of concluding these peace agreements and hereby terminate his country's longstanding civil war.[3]
Many voters viewed the tight election race between the center-right Santos and his run-off opponent, Óscar Ivan Zuluaga of the conservative right-wing Democratic Center party (Centro Democrático), as a choice between peace and continuing war. Zuluaga was the chosen successor of former president, Álvaro Uribe Vélez, the powerful conservative leader who served in office from 2002-2010. Uribe still wields great political influence in Colombia, but is barred by law from seeking yet another term in office.[4] Zuluaga called for the same punitive course of action against FARC as Uribe did. Opponents even suggested that Zuluaga would have merely been Uribe's puppet, had he emerged successful from the elections. The Centro Democrático party won 19 out of 102 Senate seats this year, making it the second largest political force after Santos' Partido de la U, which had taken a modest 21 seats.[5]
The first round of elections ran very close. Zuluaga emerged with 29.25 percent of the votes while Santos took a mere 25.69 percent.[6] However, Santos won the secondround with 50.59 percent, almost 900,000 more votes than Zuluaga's 45 percent.[7] The victory was in some measure a sign of public support for Santos' positive approach towards FARC. The vote may have also reflected the announcement, a few days before the election, that Santos had initiated formal peace talks with the ELN as well.[8] Beyond the peace initiatives, however, Santos also campaigned on empowering marginalized groups in Colombia, while at the same time improving education, and decreasing unemployment. Santos' agenda for the next four years is looking downright progressive and is further helping to explain his victory while expanding its repercussions.[9]
Moving out of Uribe's Shadows
When Santos won his first election in 2010, the outgoing Uribe administration was facing a human rights scandal and a storm of protests.[10] Colombian army forces had taken up the practice of stripping bare those civilians they killed and redressing them as enemy guerillas. These "false positives" were efforts by the military to present the dead as combat kills in order to obtain rewards and promotions.[11] Since the revelations about this practice in 2008, legal prosecutions have been ongoing to punish the responsible parties.
Santos had served as Colombia's Defense Minister from 2006-2009 under Uribe, with whom he shared a common ideology towards the country's insurgency.[12] Uribe and Santos' aggressive posture towards FARC rebels became further apparent on March 1, 2008, when the Colombian military struck against a FARC base located within the neighboring nation of Ecuador. The Ecuadorian government, needless to say, was outraged.[13] Additionally relations with Venezuela grew strained when Uribe accused former President Hugo Chávez of protecting FARC and ELN rebels.[14]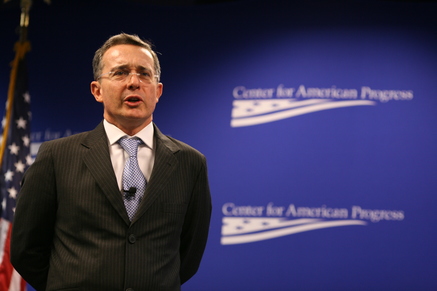 Santos, the FARC, and ELN: Moving Toward Peace
Given Santos' former position in the Uribe administration, it was widely anticipated that Santos would continue Uribe's military policies after the elections in 2010. At the beginning of the Santos presidency, 2010-2011, he continued a violent campaign against the FARC. These efforts had successfully removed FARC's military commander, Victor Julio Suárez, and FARC's leader, Alfonso Cano. When after Rodrigo Londoño Echeverri took over command of FARC in November 2011, he changed his tactics and initiated open dialogue with the Santos government, a change emphasized in April 2012 when FARC released 10 police and military hostages.[15] However, peace talks were still out of reach, as the government demanded more concessions from FARC. Finally, later that year, negotiations were formalized. A future without FARC violence became, for the first time, a realistic goal to entertain.
Although Santos and Uribe shared a vision in the past, Santos clearly needed to prove that he was his own man. After the elections, Santos continued to praise Uribe in public, but Santos' actions made clear that he was setting a new political course. Today, Uribe is quick to criticize Santos; indeed Uribe has become Santos' most fierce critic, particularly when it comes to the peace talks.[16]
The peace process is now deepening, coming to include the ELN, though the talks with the latter are being kept separate from those with FARC. Over the years, the ELN has expressed periodic interest in peace agreements with the Colombian government, but under both Uribe and Santos, the efforts soon stalled.[17] Yet relations have been improving up since 2012 when negotiations began with FARC, marking one of the most crucial phases of Santos' presidential campaign this year. Zuluaga heavily criticized this stance, but nonetheless, Santos won the vote.[18]
Public Buy-In
Polls have long shown a wide majority of Colombians in favor of continuing peace talks with FARC. It is complicated, however. Polls reveal decreasing public support for Santos. After the inauguration of peace negotiations, a Gallup poll in December 2012 showed a drop in Santos' popularity from 58 to 53 percent, further falling to 44 percent in February 2013.[19] As Santos slipped in the polls, renewed presidency appeared improbable until he received the surprising endorsement from the Colombian left, led by candidate Clara López of the Alternative Democratic Pole(PDA, Polo Democrático Alternativo). Although she opposed many of Santos' policies, she is a fierce peace advocate. It may have been this fact above all others that led her to support Santos.[20]
Still, the Colombian population is singularly conflicted. According to Gallup, the majority still back the peace negotiations, but only a minority believe that an agreement will actually be reached. While more than half the population believes in dialogue to resolve the longtime conflict, many citizens will not accept the sacrifice of justice for reaching peace. One concern is directed at the possible amnesty and impunity for those guilty of human rights violations, especially as this would include FARC members as well as the Colombian military.[21] As the talks have yet to conclude, Santos must consider his people's concerns if he truly wants the peace talks to be widely accepted. As Georgia State University researchers, Ryan E. Carlin, Jennifer L. McCoy, and Jelena Subotic, have noted:
"Reaching a peace deal that both meets international obligations and earns public legitimacy will be challenging. Since the public is clearly not indifferent, any agreement will require a substantial public education campaign and consultations with victims, political groups, and others to gain the legitimacy a sustainable peace in Colombia requires."[22]
These concerns are understandable given the previous problems with government transparency and widespread public skepticism regarding President Santos and the negotiations. Now, however, the government and FARC have an official website where citizens can follow the progress of the talks. Citizens are also encouraged to post their opinion about the present agenda.[23] On October 9, Santos reestablished Colombia's National Council for Peace, an initiative earlier tabled from the 1998 peace talks with FARC. The Council opens up for the country's social organizations to participate in the peace negotiations, and aims to secure the influence of civil society in the final outcome of the talks.[24]
On an international scale, organizations and fellow heads of state throughout the world have encouraged Santos' progressive steps toward peaceful resolution with FARC.[25] Big supporters of Santos include President Barack Obama and United Nations (UN) head Ban Ki-moon. Secretary Ki-Moon has praised the peace talks for years, recently commenting that bringing the ELN into negotiations "will contribute to ending the hemisphere's longest armed conflict and to building sustainable peace for the Colombian people."[26]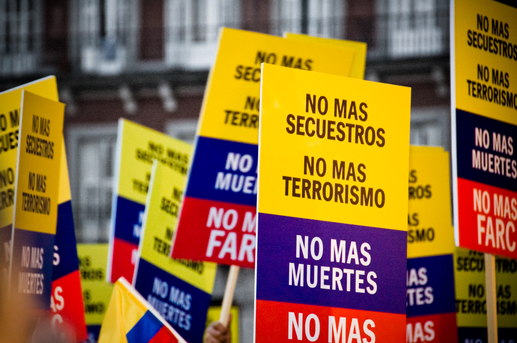 A Changed Man?
There is still much to be achieved. The past summer brought a new round of attacks on civilians and Colombian infrastructure. Santos denounced the renewed violence as a serious endangerment to the peace talks. In analyzing the patterns of these attacks, political analyst Vicente Torrijos from Rosario University in Bogotá found that they were meant to pressure the government, pushing for gaining amnesty from accountability for past crimes or to assure future access to the political scene in the country.[27] Santos has to decide if he will accommodate these demands to secure peace or adhere to the population's demand for justice. Any compromise to a solution will leave all of the engaged parties less than fully satisfied.
Many Colombians have criticized Santos for his softer approach towards FARC and ELN compared to the years when he was Defense Minister. Others see his change as a positive and progressive sign for war-torn Colombia.[28] Consequently, the fact that he has threatened to end the peace talks, given the FARC attacks during the past summer, has come as a big surprise for Colombia and the international community.[29] Apparently, Santos has kept streaks of his old harshness at large, supporting skepticism whether a real transformation of his character and values has taken place, as he is inconsistent in behavior. Yet Santos remains passionate about completing peace negotiations, thus freeing the potential of assuring Colombia's future development and likely sustained prosperity. As a Miami Herald News editorial put it: "Santos, who in Miami last year called the war 'a mule in the middle of the road' that blocks Colombia's real potential, believes a truce is the only real ticket to development."[30]
This past September, the Colombian Senate's debate on introducing Bill No. 85 reflected extensive concerns over the price of peace. Human Rights Watch and the United Nations expressed worries over the possible expansion of the jurisdiction and power of Colombia's military courts. According to UN experts, cases of human rights violations should always be prosecuted in ordinary courts, so cases of impunity will not occur.[31] The Senate bill is raising special alarm due to the ongoing prosecutions of military officials and soldiers resulting from the "false positives" scandal. If the bill passes, they could end up in military courts instead of civil courts. As the Council on Hemispheric Affairs noted in September 2012 "… it is reasonable to be suspicious of military courts, which are almost certainly more concerned with protecting the military's prestige rather than ensuring justice to the victims."[32] Santos has publically announced that the prosecutions will remain in civil courts at all times.[33] To stay unyielding on this matter is essential; otherwise, it could severely tarnish his standing among the population, as thousands of families await justice to prevail in the "false positives" cases.
 Concluding Notes
The view on President Santos varies distinctively from those who see him as a "desperate" opportunist to those who see him as a profoundly transformed individual with faith in pacifist solutions. The public opinion about the outcome of the peace negotiations remains mixed because of the reestablishment of the National Council for Peace, and strong opposition from former allies, especially Uribe. However, Santos has victoriously utilized the broad public desire for peace in his electoral campaign this year, particularly emphasized by the support from Clara López. Given his past outlook on FARC, the initial peace talks in 2012 could have been part of an opportunist scheme to gain public support for a second presidential run. If so, it clearly worked. The intriguing question is whether Santos is "just" an opportunist or a sincerely reformed man with profound peace convictions. His actions mark him as an inconsistent individual, particularly considering his past as a hardline Defense Minister. Furthermore, the possible amnesty and access to politics for FARC and ELN members adds to the controversy about Santos. However, if Santos manages to complete the peace talks –with an outcome acceptable to both the public as well as the guerilla forces– he will surely leave a lasting impression as one of great leaders of Colombia.
Please accept this article as a free contribution from COHA, but if re-posting, please afford authorial and institutional attribution. Exclusive rights can be negotiated. For additional news and analysis on Latin America, please go to: LatinNews.com and Rights Action.
Featured Image: President Juan Manuel Santos. Image by: Ministerio TIC Colombia. Taken from: https://www.flickr.com/photos/121483302@N02/14071512247
References
[1] CNN Wire Staff. "Santos Declares Victory in Colombian Presidential Runoff," CNN, Jun. 20, 2010. Accessed Oct. 15, 2014: http://www.cnn.com/2010/WORLD/americas/06/20/colombia.elections/
[2] Veléz, Clara and Santiago Cárdenas. "President Santos Confirmó Conversaciones Exploratorias con las FARC Para el Fin del Conflicto," El Colombiano, Aug. 27, 2014. Accessed Oct. 14, 2014: http://www.elcolombiano.com/BancoConocimiento/D/dialogos_de_paz_con_las_farc_santos_confirma_acercamientos/dialogos_de_paz_con_las_farc_santos_confirma_acercamientos.asp
[3] S. Beittel, June. "Peace Talks in Colombia," Congressional Research Service report, Apr. 3, 2014, p. 22.
[4] Joyce, Maggie. "Santos Sets Course Straight: Colombia's Presidential Election Part II," COHA, Jun. 19, 2014. Accessed Oct. 1, 2014: https://coha.org/santos-sets-course-straight-colombias-presidential-election-part-ii/
[5] The Economist. "Colombia's Congressional Elections," Mar. 11, 2014. Accessed Oct. 3, 2014: http://www.economist.com/blogs/americasview/2014/03/colombias-congressional-elections
[6] Editorial Office. "Entre Alianzas y Propuestas, Santos y Zuluega se Disputan la Carrera por la Presidencia de Colombia," Periódico La Campaña, May 28, 2014. Accessed Oct. 6, 2014: http://www.periodicolacampana.com/entre-alianzas-y-propuestas-santos-y-zuluaga-se-disputan-la-carrera-por-la-presidencia-de-colombia/
[7] The National Civil Registry of Colombia. "Elecciones Presidenciales," Jun. 15, 2014. Accessed Oct. 6, 2014: http://www.colombia.com/elecciones/2014/presidenciales/
[8] The Times of India. "Colombia, ELN Guerillas Launch Peace Process," Jun. 11, 2014. Accessed Oct. 3, 2014: http://timesofindia.indiatimes.com/world/rest-of-world/Colombia-ELN-guerrillas-launch-peace-process/articleshow/36370113.cms
[9] Santos Presidente, Unidad por la Paz. "Propuestas" and "Cosas del Paz," Santos Presidente, Unidad por la Paz, 2014. Accessed Oct. 6, 2014: http://www.santospresidente.com/
[10] Yagoub, Mimi. "Alvaro Uribe, When Did It All Go Wrong?" Colombia Reports, Jan. 22, 2014. Accessed Oct. 1, 2014: http://colombiareports.co/uribe-go-wrong/
[11] Alsema, Adriaan. "False Positives," Colombia Reports, Aug. 14, 2012. Accessed Oct. 22, 2014: http://colombiareports.co/false-positives/
[12] Neuman, William. "Colombian President Re-elected After a Race Challenging His Peace Negotiations," The New York Times, Jun. 15, 2014. Accessed Oct. 1, 2014: http://www.nytimes.com/2014/06/16/world/americas/colombian-president-president-juan-manuel-santos-re-elected.html?ref=americas&_r=1
[13]De Córdoba, José. "Santos Hold Wide Lead in Colombian Race," The Wall Street Journal, Jun. 1, 2010. Accessed Oct. 2, 2014: http://online.wsj.com/articles/SB10001424052748704366504575278893406996602
[14] CNN Wire Staff. Venezuela Breaks Relations with Colombia," CNN, Jul. 23, 2010. Accessed Oct. 28, 2014: http://www.cnn.com/2010/WORLD/americas/07/22/venezuela.colombia/
[15] S. Beittel, June. "Peace Talks in Colombia," Congressional Research Service report, Apr. 3, 2014, pp. 5-6.
[16]The Economist. "Still in Charge," Jul. 22, 2014. Accessed Oct. 2, 2014: http://www.economist.com/node/16646252
[17]S. Beittel, June. "Peace Talks in Colombia," Congressional Research Service report, Apr. 3, 2014, p. 9.
[18] The Times of India. "Colombia, ELN Guerillas Launch Peace Process," Jun. 11, 2014. Accessed Oct. 3, 2014: http://timesofindia.indiatimes.com/world/rest-of-world/Colombia-ELN-guerrillas-launch-peace-process/articleshow/36370113.cms
[19] Acosta, Luis Jaime. "Popularidad Presidente de Colombia Baja, Se Mantiene Apoya a Negociación Paz," Terra, Dec. 19, 2012. Accessed Oct. 3, 2014: http://wsp.presidencia.gov.co/Prensa/2012/Septiembre/Paginas/20120904_01.aspx and El País. "Crece el Pesimismo Entre los Colombianos, Según Encuesta de Gallup," Feb. 26, 2013. Accessed Oct. 3, 2014:http://www.elpais.com.co/elpais/colombia/noticias/opinion-desfavorable-presidente-santos-subio-47-segun-encuesta-gallup
[20] Neuman, William. "Support From the Left Helps Keep a Right-Wing President in Power in Colombia," The New York Times, Jun. 19, 2014. Accessed Oct. 6, 2014: http://www.nytimes.com/2014/06/20/world/americas/help-from-the-left-keeps-a-right-wing-president-in-power-in-colombia.html?_r=1
[21] Gallup diagram in Marín, Daniel Rivera. "El País Aún Le Cree al Proceso de Paz," El País, Sep. 5, 2013. Accessed Oct. 3, 2014: http://www.elcolombiano.com/BancoConocimiento/E/el_pais_aun_le_cree_al_proceso_de_paz/el_pais_aun_le_cree_al_proceso_de_paz.asp
[22] E. Carlin, Ryan, Jennifer L. McCoy and Jelena Subotic. "Pitfalls Abound in Colombia-FARC Peace Talks," The Washington Post, Aug. 28, 2014. Accessed Oct. 6, 2014: http://www.washingtonpost.com/blogs/monkey-cage/wp/2014/08/28/pitfalls-abound-in-colombia-farc-peace-talks/
[23] Mesa de Conversaciones. Accessed Oct. 3, 2014: https://www.mesadeconversaciones.com.co/
[24] Parkinson, Charles. "Colombian President Juan Manuel Santos Reopens National Council for Peace," TeleSUR Oct. 9, 2014. Accessed Oct. 17, 2014: http://www.telesurtv.net/english/news/Colombian-President-Juan-Manuel-Santos-Reopens-National-Council-for-Peace-20141009-0054.html
[25] Washington Office on Latin America. "Colombia Peace Talk Update," ColombiaPeace.org, Jul. 16, 2013. Accessed Oct. 3, 2014: http://colombiapeace.org/2013/07/16/colombia-peace-process-update-july-15-2013/
[26] Ki-moon, Ban. "Statement Attributable to the Spokesman for the Secretary-General on Peace Talks in Colombia," United Nations, Jun. 10, 2014. Accessed Oct. 3, 2014: http://www.un.org/sg/statements/index.asp?nid=7767
[27] Semana. "Están Jugando con Candela y Este Proceso Puede Terminar," Jul. 29, 2014. Accessed Oct. 6, 2014: http://www.semana.com/nacion/articulo/santos-les-advierte-las-farc-que-el-proceso-de-paz-se-puede-terminar/397394-3
[28] Molinski, Dan and Juan Forero. "Colombian President Juan Manuel Santos Wins Re-election," The Wall Street Journal, Jun. 15, 2014. Accessed Oct. 1, 2014: http://online.wsj.com/articles/colombias-president-faces-tough-battle-for-reelection-1402865727
[29] Semana. "Están Jugando con Candela y Este Proceso Puede Terminar," Jul. 29, 2014. Accessed Oct. 6, 2014: http://www.semana.com/nacion/articulo/santos-les-advierte-las-farc-que-el-proceso-de-paz-se-puede-terminar/397394-3
[30]Padgett, Tim. "Colombian Presidents Fights The "Black Propaganda" Against Peace," WLRN, Miami Herald, Sep. 30, 2014. Accessed Oct. 7, 2014: http://wlrn.org/post/colombian-president-fights-black-propaganda-against-peace
[31] Office of the High Commissioner for Human Rights. "Open letter by Special Procedures mandate-holders of the United Nations Human Rights Council to the Government and the Congress of the Republic of Colombia," United Nations Human Rights, Sep. 29, 2014. Accessed Oct. 7, 2014: http://www.ohchr.org/EN/NewsEvents/Pages/DisplayNews.aspx?NewsID=15116&LangID=E#sthash.c4iltzhd.dpuf
[32] Council on Hemispheric Affairs (COHA). "Extrajudicial Killings in Colombia Demands Action," COHA,Sep. 5, 2012. Accessed Oct. 7, 2014: https://coha.org/extrajudicial-killings-in-colombia-demand-action/
[33] Corbett, Craig. "Santos Assures Extrajudicial Killings Will Not Be Tried in Military Courts," Colombia Reports, Sep. 24, 2014. Accessed Oct. 7, 2014: http://colombiareports.co/santos-assures-human-rights-watch-false-positive-cases-will-tried-military-courts/