Mexican Election: Recall of Mexico's Electoral "Democracy" Status
The first of this month saw Mexico's third presidential election since its transition to electoral democracy in 2000. The initial results, the call for a recount, and the events that will unfold before the official designation of the winner by the Federal Electoral Institute (IFE) on September 9 will likely represent a further tainting of Mexico's sole democratic institution.
Mexico has been hailed as a poster child of emerging democracies since its era of party-initiated reforms beginning in the 1990s. After 71 years of political dominance, the Institutional Revolutionary Party (PRI) finally bowed to mounting public agitation and carried out electoral reforms in order to maintain its rapidly vanishing legitimacy. Since the election in 2000, the first one after those reforms were enacted, Mexico has been consumed by economic stagnation and escalating violence surrounding the war against drug cartels. Consequentially, further reforms necessary to strengthen the nascent democracy and prevent a relapse into election fraud became marred in legislative deadlock, and took a backseat to security issues. This month's presidential election and the complaints of electoral irregularities are a direct result of these failures.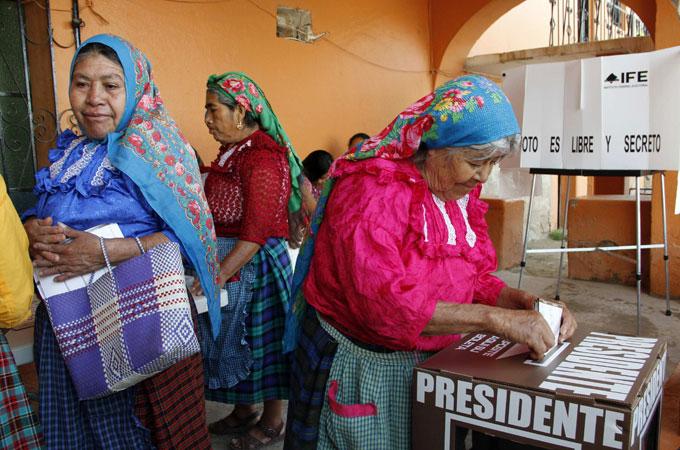 Four days after the July 1 presidential election, the IFE confirmed the initial estimate of a presidential election victory by Enrique Peña Nieto of the PRI after a parallel partial recount of the ballots was undertaken.(1) The recount was initiated after left-leaning second-place finisher Andres Manuel Lopez Obrador alleged instances of voter fraud and a number of agencies noted overall irregularities.
"It was neither a clean nor a fair election," reported Eduardo Huchim of the Civic Alliance, a Mexican watchdog group.(2) In addition to the more than 1,000 cases of general polling irregularities reported by the YoSoy132 student group, opposition groups have reported PRI activists allegedly handing out prepaid gift cards, worth 100 pesos, or about $7.50 USD, to voters in some districts.(3) As rumors spread that the cards would be invalidated, recipients rushed to grocery stores revealing the extent of the vote buying. Though the 1,000 reports of irregularities and vote buying may not compare to the margin of victory by Peña Nieto (more than 3 million votes), violations of campaign spending laws represent a threat to the legitimacy of the IFE. The parties, and most atrociously the PRI, have gone unregulated on its campaign funding despite recent reforms to control this inequity. In recent statements, the second runner-up and ruling party candidate, Josefina Vázquez Mota highlighted this danger, "Although the final result is not altered, those actions that corrupt democratic life and citizens' rights should be sanctioned. I call on the electoral authority to act in consequence."(4)
 While those within the PRI have hailed the recount as a "historic" moment for electoral transparency, allegations of vote buying signal a backsliding to past electoral abuses. Mexico's legendary one-party rule was characterized by voter fraud and ballot stuffing throughout much of its time in power. The reforms of the 1990s, which granted independence to the IFE, led to the first opposition party president in 2000. But they were not enough to prevent new allegations of fraud during the 2006 election, and they have proven insufficient in this election as well.
The real tragedy surrounding the results of this year's election can be captured in the words of Mexican scholar Jorge Casteñeda. In his 2010 article, "A Future for Mexico," Casteñeda called on Mexico to move a step forward in its march towards democracy. He argues that though the 2000 and 2006 elections succeeded in briefly excluding the "greater evil" of the PRI from Los Pinos, the PRI did not leave "the soul of Mexico."(5) Indeed, it appears that the PRI is now returning to Los Pinos after 12 years, against the warnings of Casteñeda. Not only did the 2012 campaign fail to fulfill what Casteñeda called a "referendum" on Mexico's future, it may end as a step backwards in Mexico's consolidation of its electoral democracy.
At a time when governmental legitimacy is already at risk due to corruption, cartel violence, and an abysmally stagnant economy, the Federal Electoral Tribunal must not stand idle as the nascent democracy spirals into disarray. The tribunal must initiate an in-depth and transparent investigation into campaign spending in order to restore faith in the coming administration and electoral institution.
To view citations, click here.
Please accept this article as a free contribution from COHA, but if re-posting, please afford authorial and institutional attribution.
Exclusive rights can be negotiated.