How a Capriles Administration Would Affect Colombia
On Sunday, Venezuelans will begin the crucial next phase in their country's, at times tortuous history, when President Hugo Chávez's reelection bid against the opposition candidate Henrique Capriles is prepared to meet its final test. Chávez has held the presidency since 1999, during which time he has become internationally praised as well as lampooned. His prolonged incumbency has caused diplomats, politicians, and the media to label him as a virtual dictator and a persistent authoritarian. Now, Chávez is competing against Capriles as the candidate of the center-right Democratic Unity Round Table, whom a majority of observers deem to have the best chance to successfully compete against the long-term Venezuelan office holder who has lead the in polls since coming to power in 1999. Outside of Venezuela, major changes are expected in the often-bedeviled relationship between Venezuela and Colombia if Capriles astonishes the hemisphere by coming to power on October 7. A major transformation in these ties already seemed to be in the offing occur under Colombian President Juan Manuel Santos and Chávez in the direction of seriously warming up the relationship between the long-term adversaries and conflicting neighbors.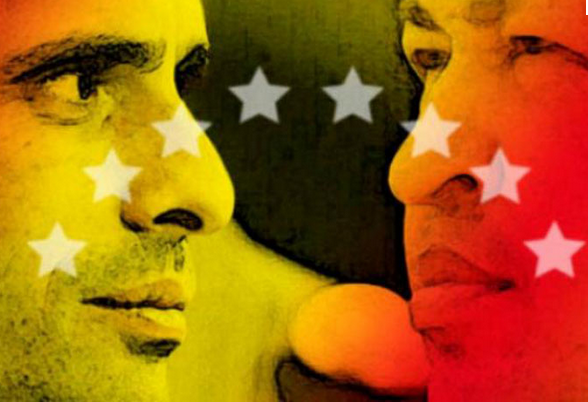 Venezuela-Colombia Border: An Extraordinary Shift in Scenario
Although Venezuela and Colombia's bilateral relations have been historically linked (despite recurrent territorial flare-ups), political and ideological strains have put out a stress signal on recent volatile interactions.
As the two neighboring states with chronically tense connections, Venezuela and Colombia share important cultural and commercial ties. Over the years, the two states have tried to strengthen these ties through cooperation and integration, especially along their occasionally tempestuous borders. Bogotá and Caracas have already instituted an increasingly high amount of Border Integration Zones as a mechanism to supervise the episodic tensions along border while increasing their bilateral zones of cooperation. A high concentration of military and security devices have been placed at the borders to reduce the movement of illegal armed groups. However, the current measures hardly have fully reduced the illegal movement of people, narcotics, and weapons sparking tensions. At the same time, the Colombian military has discovered FARC camps in Venezuelan territory, causing United States Ambassador to Colombia Anne W. Patterson in the recent past to proclaim that the, "Venezuelan military has been actively ordered at the highest levels to turn a blind eye to FARC and ELN camps."[1]
These issues first cropped up a number of years ago during hardliner Alvaro Uribe's term as Colombia's president. Uribe repeatedly accused the Venezuelan and Ecuadorian governments of collaborating with FARC units, singling out Venezuelan President Chávez on more than one occasion. The situation evolved into a diplomatic crisis when Uribe launched Operation Fenix in 2008 within Ecuador's borders, which resulted in the death of Raul Reyes, one of the FARC's most wanted senior leaders. Colombia received international criticism for its violation of Ecuador's sovereignty. In an effort to achieve a peaceful outcome, both countries attended sessions mediated by the Organization of American States (OAS) and the Union of South American Nations (UNASUR). However, an agreement involving all parties eventually failed and the two states cut off their diplomatic bilateral ties by the end of the year, primarily affecting populations along the borders and private entities.
Chávez – Santos
Soon after President Santos took office in 2010, his administration made an anticipated effort to end the bilateral diplomatic crisis and rush reestablishing bilateral relations between the two countries. During the early months of Santos's presidency, tentative agreements were reached once Chávez announced, "We have to learn to live together, and the Venezuelan government does not support, or permit, nor will it ever permit, the presence of guerrillas or terrorists in Venezuela."[2] President Santos increasingly echoed Chávez's statements by insisting that "We have had a frank, direct and sincere dialogue, and I think we have taken a big step in re-establishing confidence."[3]
These declarations have correlated with bilateral relations that have undoubtedly improved ties between the two nations. The two countries have established development agreements, as well as economic, industry, tourism, infrastructure, and narco-defense cooperation committees.[4] Trade relations have also resumed once the two sides realized the negative impact of their previous economic split, augmented by President Santos's public announcement that that, like Chávez, he too had prostrate cancer. The situation has also allowed the two administrations to promote tariff preferences, among other important commercial and economic initiatives.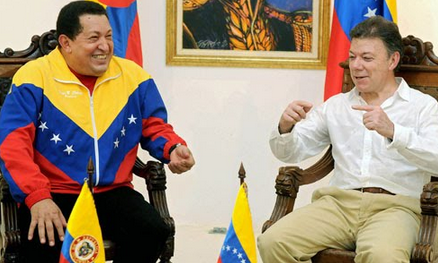 Capriles as an aspect of Venezuela – Colombia Relations
It is obvious to take note that Venezuelan presidential candidate Capriles doesn't necessarily have the same perspective on foreign policy than President Chávez. To begin, Capriles believes that the bilateral links between Colombia and Venezuela should go beyond the "friendship" between presidents Santos and Chávez. The opposition says that Chávez carries out the mechanism dealing with foreign affairs simply through the force of his personality. Capriles has expressed a desire to use more traditional, institutional cooperation. The opposition candidate has insisted that he will improve relations with Colombia by addressing issues involving commercial relations, guerrilla authorities, drug trafficking, and paramilitary issues.[5] The dialogue in which the Colombian conflict is now being addressed would be altered as well. Capriles promotes the strengthening of democracy and increasing the respect for democratic institutions and rejects violence. Moreover, he has mentioned the possibility that Venezuela will rejoin the Andean Community of Nations if he is elected. Venezuela has previously left the Community partly because of the United States-Colombia Free Trade Agreement, so its reinstatement would improve relations with Colombia.
To the chagrin of Chávez, Venezuelan opposition candidate Capriles and Colombian President Santos met on September 9 to discuss the importance of strengthening of Colombia-Venezuela bilateral relations. They have recognized the significance of security cooperation, which has helped combat FARC insurgents and aided in the apprehension of drug kingpin, Daniel Barrera (AKA Loco Barrera). Capriles has encouraged the Venezuelan authorities to continue supporting Colombia's fight against insurgent groups.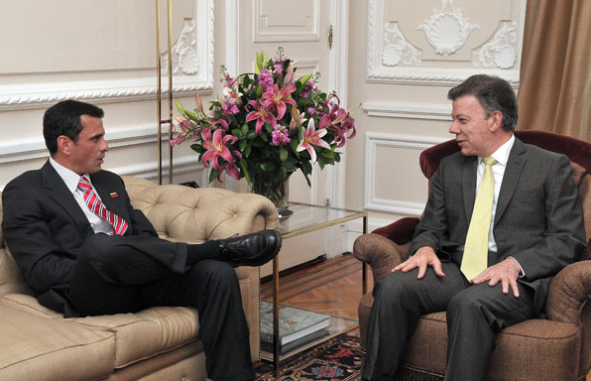 Conclusion
While Capriles has outlined the broad strokes that his foreign policy would take, he has not fully specified the details with which he is working. Of course, if he is elected, Capriles will spend most of his time focusing on domestic issues, so international actors should not get their hopes up too high. One can guess that Venezuelan affairs will be Capriles' number one priority, but after these matters begin to be settled, he will be able to proceed to the international sphere. A President Capriles will be challenged to balance internal and international affairs, since he has so much to do domestically but, at the same time, cannot neglect Colombian peace talks and other core international issues.
In addition to Capriles's position, this past Monday, President Santos announced in a press conference that he was prepared to have a prostrate cancer surgery, surprising the Colombian, as well as international community, who were not aware of the President's terminal illness. With the news, it is all but inevitable for critics to question if President Santos will be able to effectively manage such important events as the Venezuelan elections and post-election relations between the countries. Compounding the problem is Santos's own commitment to negotiating a historic peace deal between the FARC guerrilla group and his relatively newly formed government.
As it stands, the results of the upcoming elections in Venezuela will be definitive for the future of Venezuela's relations with the international community and its neighbors. Despite Santos's current conditions, Colombia's status as a neighboring country has a national interest in Venezuela's future, and will be closely following the election as well as the election's aftermath. No matter who is elected on October 7, the Colombian government has publicly expressed its support for prioritizing its bilateral relations with Venezuela. It is conductive to either Chávez or Capriles to continue appreciating the potential for significant gains to be made from the expansion of bilateral relations.
Sarah Amaya, Research Associate at the Council on Hemispheric Affairs
Please accept this article as a free contribution from COHA, but if re-posting, please afford authorial and institutional attribution. Exclusive rights can be negotiated.
---
[1] "Details of FARC Camps in Venezuela," Revista Semana, accessed September 27, 2012, http://m.semana.com/por-clasificar/details-on-farc-camps-in-venezuela/153746-3.aspx.
[2] Mariano Castillo, "How deep are relations between Colombia and Venezuela?" British Broadcasting Corporation, August 10, 2010, accessed September 27, 2012, http://www.bbc.co.uk/news/world-latin-america-10926003.
[3] Mariano Castillo, "How deep are relations between Colombia and Venezuela?" British Broadcasting Corporation, August 10, 2010, accessed September 27, 2012, http://www.bbc.co.uk/news/world-latin-america-10926003.
[4] "Colombia y Venezuela firmaron cuatro acuerdos para el desarrollo binacional," Revista Dinero, November 2, 2010, accessed September 27, 2012, http://www.dinero.com/actualidad/economia/articulo/colombia-venezuela-firmaron-cuatro-acuerdos-para-desarrollo-binacional/106736.
[5] Edgar Otálvora, "Capriles ofrece una política exterior pragmática y no ideological," Defesa, estratégica, inteligência, segurança, September 19, 2012, accessed on September 27, 2012, http://www.defesanet.com.br/al/noticia/7820/Informe-Otalvora—Capriles-ofrece-una-politica-exterior-pragmatica-y-no-ideologica.
See also:
Elections in Venezuela: Stakes are High for the Region
An Interview with Luis Christiansen Regarding the Prospects of Venezuelan Presidential Elections