Guyana's Elections Falter At the Last Curve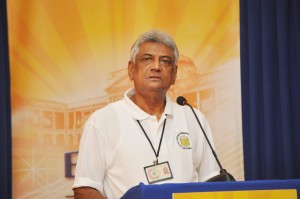 Since November 29 2011, the culmination of this year's Guyanese general elections establishing the official figures for the ballot have been delayed as electoral officials continue to count votes. While the numbers are being verified by the General Elections Commission (GECOM), its chairman, Dr. Steve Surujbally has justified the postponement by reiterating the necessity for thoroughness and efficiency before releasing the election's preliminary results.
The Organization of American States Electoral Observation Mission (OAS/EOM), which sent an observer delegation to monitor the electoral process and the transition of government scheduled for Guyana, echoed Dr. Surujbally's sentiment and backed the electoral authority's methodology of establishing and issuing credible results. In addition to the OAS/EOM, international observer committees from the Caribbean Community (CARICOM) and the Commonwealth have also been involved in monitoring the elections.
While intended to offer additional legitimacy to the electoral process, the lull before the impending results could become an occasion for controversy and cause unwelcome tensions between the ethnically polarized parties to escalate. The People's National Congress (PNC), now under the umbrella of A Partnership for National Unity (APNU) along with a host of smaller parties, is the main opposition coalition attempting to topple the incumbent People's Progressive Party (PPP) from a fifth successive presidential victory. Previous electoral contests between the PPP, predominately supported by the Indo-Guyanese rural masses, and the urban-centered Afro-Guyanese PNC, were marred with violence that warranted military intervention and Guyana could once again become embroiled in clashes in the aftermath of the polling.
Though the voting process had been reportedly calm and peaceful, in a bid to alleviate a potentially difficult electoral environment, the PPP has urged the electoral authorities for an expedited disclosure of the election results. The party had previously requested a recount after its member officials were denied access to several polling stations, but, at the same time it insists it did not want to interrupt the declaration of results. With the recent postponement of preliminary results, the sacking of GECOM officials for their "lapses" at polling stations, as well as walkouts by party officials during recounts, the carefully monitored elections could begin to face mounting criticism. In order to prevent a history of partisan conflict from repeating itself, GECOM will have to balance expediency with credibility when it comes to releasing the election's results, or deal with the consequences of initiating a new government in a somewhat murky context, thus stifling the sense of expectations that might accompany the transition to a new government.
This analysis was prepared by COHA Research Associate Faizaan Sami.
Please accept this article as a free contribution from COHA, but if re-posting, please afford authorial and institutional attribution. Exclusive rights can be negotiated.