Fragata Libertad: A "Vulture Fund" Prey
Argentina's Fragata Libertad vessel has been marooned in Africa ever since Ghana seized it in a dispute over Argentine defaulted debt.  The ship was confiscated in the Ghanaian port of Tema on October 2 during a South Atlantic tour that was traveling to a number of countries in Latin America, Europe, and Africa. The ship's crew finally returned to Buenos Aires this week after being held captive onboard the ship for nearly three weeks. The entire incident is the latest example of the consequences of Buenos Aires's refusal to pay holdout creditors that purchased Argentine defaulted debt in 2001. The Argentine Foreign Minister has pointed out that the ship's seizure is a violation of international laws protecting sovereign military vessels, specifically the U.N. Convention on the Law of the Sea.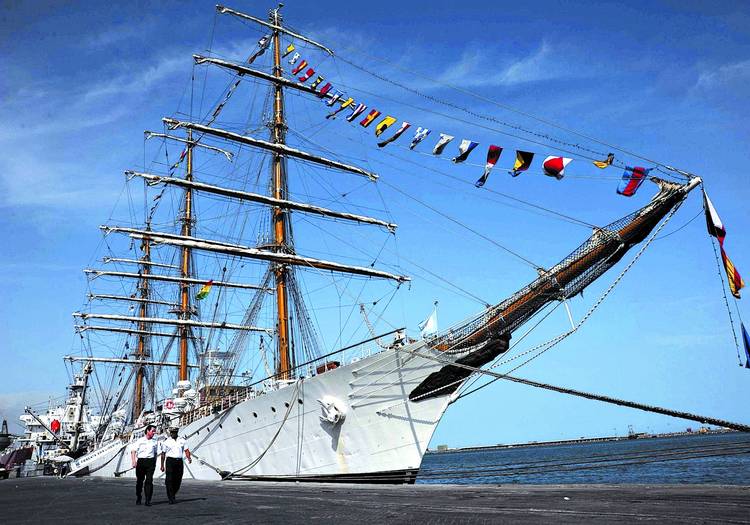 The issues relating to the October 2 seizure come as the result of a ruling made by Ghana's Supreme Court. The court's decision was to uphold an injunction filed by NML Capital, a subsidiary of Elliot Management Corporation. The injunction referred to Argentina's refusal to pay the  $1.7 billion USD judgment awarded by New York Judge Thomas Griesa. Beyond the concern for the well-being of the sailors, the ship's seizure relates to a larger issue concerning the reach of vulture funds. The Fragata Libertad case has the potential to fundamentally restructure the entire process of debt reorganization as a legal precedent.
Elliot Management has taken an active role in settling Latin American debt issues in the past. In the 1990s Peru went through a similar process with Elliot Associates—also a part of Elliot Management Corporation—that almost undermined the country's entire debt reorganization. By refusing to fully pay its debt, Argentina may be able to avoid a similar fate.  In fact, it appears as even Washington agrees with Argentina's course of action. The United States now appears to recognize that the hedge fund could undermine the entire debt reorganization planned for Argentina, which was designed to avoid any collapse of existing settlements.
Brief History
In 2001, Argentina experienced one of the most sweeping sovereign debt defaults in the history of global finance. The default, on approximately $81 billion USD in scope, generated a wave of panic among investors as well as widespread condemnation around the globe.1 Four years later, in 2005, Argentina presented an offer to bond holders of its sovereign debt, whereby creditors would receive 35 cents on every dollar owed.2 A large percentage of the country's creditors accepted the offer. Then in 2010 Argentina presented the same offer to the bankers who had initially declined. After this final deal was on the table, Argentina successfully settled 93 percent of the claims against it.3 However, among the seven percent that held out on the deal was NML Capital, a subsidiary of the aforementioned Elliot Management Corporation headed by billionaire chairman Paul Singer. The problem was prompted by Singer, pledging to accept nothing less than full payment, and has refused the two previous settlements that have been tendered. Singer has even gone as far as saying "Our primary goal is to find bankruptcy situations where our ability to control or influence the process is the driver of value."4
Peruvian Debt Restructuring 
The basic idea of vulture funds, such as those held by Elliot Management Corporation, revolves around a company's willingness to risk its often tough reputation by targeting poor countries, which lack the resources to settle their national debt. The involvement of Elliot Associates in Peru is a prominent example.
In the early 1990s, Peru found itself without the funds that would be necessary to effectively manage its debt. As a consequence, Lima was forced to announce that it was prepared to restructure its debt using Brady Bonds to replace non-performing assets.5 Around the same time that the Peruvian authorities announced the Brady Bond restructuring scheme, Elliot Associates purchased $20 million USD of Peruvian debt for $11.4 million USD.6 Comparable to Argentina's current situation, Elliot Associates purchased the defaulted debt expecting to be able to collect full payment plus interest at a later date. To make matters more problematic for Peru, Elliot Associates was the only Peruvian creditor that did not participate in the swap for U.S. Brady Bonds.7
Elliot Associates then sued Peru in a U.S. court, demanding full payment of the bonds plus interest. The court ruled in Elliot Associate's favor, granting the hedge fund a sum of $56.3 million USD.8 The ruling followed precedents set by other financial wrangles. However, the award of a penalty by the court is an entirely different matter than actually receiving it. Initially, Peru only intended to pay Brady Bond holders, in spite of the U.S. court's ruling; nevertheless, Elliot Associates invoked the pari passu clause, in a Brussels court ruling, which states that all creditors must be treated equally.9 Peru, fearing that it would have to default on the newly restructured debt, was forced to pay both Elliot Associates and Brady Bonds in full.10
After the success in Peru, Elliot Management Corporation decided to gamble once again by purchasing Argentine debt through its subsidiary NML Capital, the same hedge fund that had declined Argentina's previous settlement offers and insists for full payment. While the hedge fund's new investment is very similar to its previous Peruvian initiative, in this case, the Argentine government has refused to pay. Argentine President Cristina Fernández de Kirchner already has renegotiated most of the country's debt—in which 93 percent of investors have taken a 65 percent loss on their bonds. If NML Capital receives payment in full, then Argentina would be vulnerable to further litigations from other investors who previously had accepted replacement bonds from the restructured deal.11  Understandably, investors from the previous deal would feel as though they had been exploited, since they would be taking a 65 percent loss while investors with the other seven percent of the debt would receive full payment. Ace Ankomah, NML Capital's attorney, claims that Argentina has the "means" and the "ability" to pay its debts. However, it appears as though the question is not whether the Argentines can pay their debt, but rather if they will, considering the legal ramifications that Buenos Aires could face.12 In other words, Argentina would risk far less by refusing to pay NML Capital than by giving in to the demands of the U.S. hedge fund.
There is a major difference between the Peruvian situation in the 1990s and the current Argentine predicament. While the Argentine government offered previous debt swaps in which Elliot Management Corporation did not decide to participate, in Peru's case, Elliot Associates received the full repayment because the country also intended to pay back the Brady Bond holders in full.  Purchasing debt at extraordinarily low prices involves substantial risk—a risk that the hedge fund was certainly aware of when it contracted to buy Argentine debt. Ultimately, the longer the investment firm waited to be paid by Argentina, the more difficult it became to receive payment at all.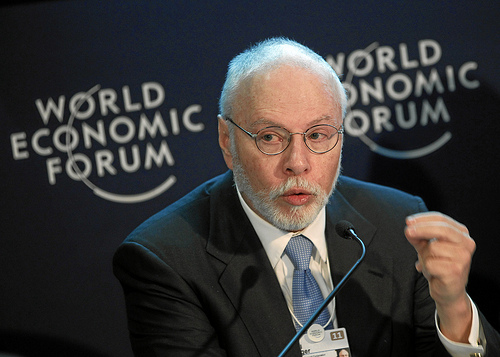 Fragata Libertad
In February, New York Judge Thomas Griesa awarded $1.7 billion USD to NML Capital as a result of Argentina's failure to pay its remaining debt.13 Since then, NML Capital has been trying to collect Argentine assets in order to affect payment. The firm has thus far attempted to seize Argentina's linked assets such as its presidential airliner, precious artwork, and personal holdings of high-ranking Argentine political officials—most notably those of President Fernández de Kirchner and her late husband, former president Nestor Kirchner. The Argentine president was able to invoke immunity provisions to Argentina's Air Force One, but had less luck with its warship, the Fragata Libertad.14 Ultimately, the subsidiary of Elliot Management Corporation has set a $20 million USD bail (the ship's approximately the value), which has been enforced by the Ghanaian Supreme Court.  The hedge fund has also indicated that the injunction would be lifted upon payment of the bail, which is only a fraction of the full amount that had been awarded by the U.S. court in February.15
It is important to note that military vessels should be granted immunity, and this indeed has become Argentina's argument as it proceeded to refuse to pay the bail. Ghanaian Judge Richard Adjei-Frimpong argued that since the vessel was not on a military mission, it was not under the protection of the U.N. Convention on the Law of the Sea.16 As a result, Ghana's Supreme Court upheld the injunction filed by NML Capital. Argentine Foreign Affairs Minister Héctor Timerman maintains that the ship's seizure was "from an international law point of view, completely illegal."17
The United States Lends a Helping Hand, Yet Still Criticizes 
Peru's case demonstrates how credit holdouts can potentially undermine the entire restructuring of a nation's debt. If Peru had been unable to pay both U.S. Brady Bonds and the Elliot Associates in full at the same time, then the country's debt repayment plan would have failed entirely.
In an attempt to avoid courting failure, Washington filed an amicus curiae, or friend-of-the-court brief, asking for the New York district court to reverse Judge Griesa's ruling. In the court document, U.S. lawyers stated:
A single creditor [could] thwart the implementation of an internationally supported restructuring plan, and thereby undermine the decades of effort the United States has expended to encourage a system of cooperative resolution of sovereign debt crises.18
The document went on to explain that courts must be highly cognizant of immunity concerns about foreign assets because such a finding could jeopardize not only U.S. foreign relations, but also U.S. properties abroad.19 While this amicus curiae was filed in April, it has become applicable to the events in October.
This court brief issued by the United States supports Argentina's decision not to pay NML Capital, considering that the other 93 percent of creditors would most likely seek remuneration if the hedge fund were to receive a more favorable settlement.  Nevertheless, Washington is still condemning a number of Argentine financial practices. These include, according to the amicus curiae brief, failures to meet international commitments, "…given that Argentina is a member of the G-20, the IMF, the World Bank, and other international fora, and is a middle-income country with great potential to generate prosperity for its citizens."20 However, if remaining Argentine debt issues were to be solved, then maybe the country would better participate in their institutional activities, allowing them to meet international commitments. While this may seem like a somewhat simplistic perspective, the remaining debt holders' refusal to accept any compensation less than full payment has certainly contributed to Argentina's current resistance to the findings of the international financial community.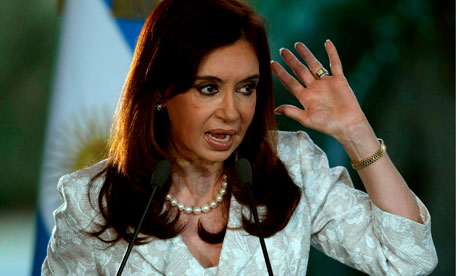 Conclusion
Currently, Cabinet Chief Juan Manuel Abal Medina asserts that Argentina will not succumb to the requests of "vulture fund" NML Capital and the stand being taken by billionaire Singer. Furthermore, Héctor Timerman, pleaded Argentina's case before the U.N. Security Council, declaring, "Ghana is smashing a law that guarantees the operation of military navigation."21  Unfortunately for Argentina, both the current president of the UNSC, Gurt Rosenthal, and Secretary General Ban Ki-moon have decided that the United Nations would remain uninvolved because the issues do not "threaten world peace."22 The U.N. Secretary General has emphasized that he hoped both countries would resolve this issue "in accordance with international law, including the U.N. Convention on the Law of the Sea, to which both Argentina and Ghana are parties."23 Even though the ship's detention is of a relatively small concern compared to the massive Argentine debt, the potential effect of Argentina's decision is significant as it could set a precedent for similar situations in the future.  If NML Capital receives a higher settlement, similar hedge funds may be encouraged to follow lucrative "vulture" practices for their long-term debt.
Through all the uncertainty, President Fernández de Kirchner's stance has been clear, as she asserts that, "[NML Captial] can rob us of our frigate but no vulture fund can take our liberty, our sovereignty, our dignity."24 Her position will play a pivotal role in the situation. Traditionally, vulture funds attack developing countries, as was the case with Peru. However, if a middle-income country, such as Argentina, is able to withstand pressure from vulture funds, lower income countries may experience increased protection from such practices in the future. In any case, reconstructing national debt is a complicated and sensitive process, and the presence of foreign companies seeking to capitalize on outstanding debt claims can hold back the entire growth procedure, threatening to completely delay or destroy the process.
Gene Bolton, Research Associate at the Council on Hemispheric Affairs
Correction: According to Forbes, Argentina was ordered to pay NML Capital a sum of $1.6 billion USD.  However, that figure currently stands at $1.33 billion USD.
Please accept this article as a free contribution from COHA, but if re-posting, please afford authorial and institutional attribution. Exclusive rights can be negotiated.
---
Sources:
1 "Caught napping: Hold-out creditors seize an Argentine ship in Ghana," The Economist, October 13, 2012, http://www.economist.com/node/21564542.
3 IBID.
4  Héctor Timerman , e-mail message to Larry Birns, Quoted Paul Singer.
5 Kenneth H. Fukuda, "What is a Vulture Fund?" The University of Iowa Center for International Finance and Development, http://ebook.law.uiowa.edu/ebook/faqs/what-is-a-vulture-fund.
9 Hal Scott and Howard Jackson, "Sovereign Debt Restructuring: Should we be Worried About Elliot?," Harvard Law School: International Finance Seminar, May 2002, http://www.law.harvard.edu/programs/about/pifs/llm/sp44.pdf.
10 Kenneth H. Fukuda, "What is a Vulture Fund?," The University of Iowa Center for International Finance and Development, http://ebook.law.uiowa.edu/ebook/faqs/what-is-a-vulture-fund.
Hal Scott and Howard Jackson, "Sovereign Debt Restructuring: Should we be Worried About Elliot?" Harvard Law School: International Finance Seminar, May 2002, http://www.law.harvard.edu/programs/about/pifs/llm/sp44.pdf
11 "Caught napping: Hold-out creditors seize an Argentine ship in Ghana," The Economist, October 13, 2012, http://www.economist.com/node/21564542.
12 Panapress, "Ghana court to determine fate of Argentine ship on Thursday," October 9, 2012.
13 Agustino Fontevecchia, "No Liberty For Libertad: Argentina's Battle With Hedge Fund Billionaire For Navy Vessel Continues," Forbes, October 11, 2012, http://www.forbes.com/sites/afontevecchia/2012/10/11/no-liberty-for-libertad-argentinas-battle-with-hedge-fund-billionaire-for-navy-vessel-continues/.
Hilary Burke and Paul Simao, "U.S. backs Argentine stance on defaulted debt ruling," Reuters, April 8, 2012, http://economy-news-everyday.blogspot.com/2012/04/us-backs-argentine-stance-on-defaulted.html
14 Agustino Fontevecchia, "The Real Story Of How A Hedge Fund Detained A Vessel In Ghana And Even Went For Argentina's 'Air Force One'," Forbes, October 5, 2012, http://www.forbes.com/sites/afontevecchia/2012/10/05/the-real-story-behind-the-argentine-vessel-in-ghana-and-how-hedge-funds-tried-to-seize-the-presidential-plane/.
15 BBC News Africa, "Argentina orders sailors to evacuate Libertad ship seized by Ghana," October 21, 2012.
16 Shane Romig, "Argentine Navy Ship Remains Impounded in Ghana," The Wall Street Journal, October 11, 2012, http://online.wsj.com/article/SB10000872396390443749204578051231734377620.html
17 Héctor Timerman, quoted in MercoPress, "UN Security Council says ARA Libertad incident does not endanger world peace," October 22, 2012.
18 United States Court of Appeals for the Second Circuit, amicus curiae in support of reversal, April 4, 2012.
21 Héctor Timerman quoted in The Raw Story, "Argentina calls for international help over seized ship," October 23, 2012.
22 Gurt Rosenthal quoted in The Raw Story, "Argentina calls for international help over seized ship," October 23, 2012.
23 Ban Ki-moon quoted in The Raw Story, "Argentina calls for international help over seized ship," October 23, 2012.
24 Emily Schmall, "Argentine's Ship Arrives Home From Africa," The Associated Press, October 25, 2012, http://www.knoxnews.com/news/2012/oct/25/argentine-ships-crew-arrives-home-from-africa/.