Conservationist's Murder Tarnishes Costa Rica's Environmental Agenda
On July 31, Costa Rican police in the provinces of Limón and Guapiles arrested seven people in connection with the murder of Jairo Mora Sandoval, a sea turtle biologist and activist whose body was found along the coast of the Limón province exactly two months earlier. Mora, a 26-year-old native to the region, had been volunteering for the Wider Caribbean Sea Turtle Conservation Network (WIDECAST), protecting leatherback sea turtles from poachers and drug traffickers. On May 31, Mora's body was discovered with signs of torture not far from the beach community of Moín.
Since Costa Rican law enforcement took minimal action in the immediate aftermath of the tragedy, environmental groups organized around the world. More than 130,000 individuals from 150 countries signed a petition both demanding that Costa Rica do more to protect the nation's beaches from poachers and calling for Mora's killers to be brought to justice. Two months later, the murder case has only slightly progressed. However, environmentalists remain uncertain as to whether the Costa Rican government, regardless of its political ideology, is truly committed to protecting its precious wildlife. While Costa Rica is often hailed as one of the greenest countries in the hemisphere, the events surrounding Mora's murder suggest that its government remains largely influenced by local economic factors, even when its biodiversity is at risk.
A Model for Green Initiatives?                                      
Costa Rica is one of the world's most biologically diverse nations; the country barely covers 0.03 percent of the earth's surface, yet it contains nearly 6 percent of the world's biodiversity. [1] Once considered to be one of the most deforested countries in the region, Costa Rica now touts a long list of laws and initiatives aimed at promoting environmental conservation and long-term sustainability. [2] Examples include the 1996 National Forest Fund, which allocated roughly $230 million USD towards forest conservation, as well as the 2007 Pax Natura (Peace with Nature) Initiative, which establishes an ethical basis for environmental commitment.  [3] The country is home to 32 national parks, and the government restricts development on roughly one quarter of its national territory (including Indian reserves, biological reserves, and wildlife refuges). [4] Just recently, the government decided to shut down its state zoos, a move that was welcomed by animal rights groups. [5] Furthermore, over 90 percent of Costa Rica's energy comes from renewable sources, and officials are seeking to increase that number even further. [6] By 2021, the country hopes to have a "carbon neutral" footprint, with zero net carbon emissions. [7] Costa Ricans have ample motivation to protect themselves against the dangers of climate change due to the country's precarious location, which is prone to hurricanes, flooding, and other natural disasters. Thus, while Costa Rica is viewed around the world as the leader in green legislation and policies, these advances may be driven more by self-preservation and a desire to improve the country's economy, rather than to protect its natural wildlife.
In recent decades, the Costa Rican government has prioritized the promotion of ecotourism. Costa Rica is known worldwide for its picturesque, untouched nature, and many travelers come to explore the country's abundant reserves and parks. The tourism industry began to pick up in the 1970s and grew dramatically in the following decades. [8] In 2011, the industry accounted for 5 percent of the country's GDP, as over 2.1 million tourists visited Costa Rica. [9] Ecotourism has been credited for saving the country from environmental degradation, as Costa Rica once led the world in the war against deforestation rates. [10] The economic benefits that come with the influx of tourists have provided local communities as well as political leaders with the motivation to protect their surrounding environment.
Government officials now view ecotourism as the most profitable sector of the Costa Rican economy—particularly when compared to those that are extremely destructive such as cattle ranching, which requires clearing vast amounts of forest. [11] However, ecotourism may paradoxically be destroying the environment that it seeks to protect. Many environmentalists question the sustainability of the industry, as the number of incoming tourists grows every year. In 1986, New York field biologist Jay Westervelt coined the term "greenwashing," a pervasive practice in which luxury hotels and services attract ecotourists by self-labeling as green, despite not actually being environmentally friendly. [12] Whether or not the government takes action to prevent greenwashing will serve as an indicator of how committed Costa Rica is to ensuring the sustainability of its diverse environment.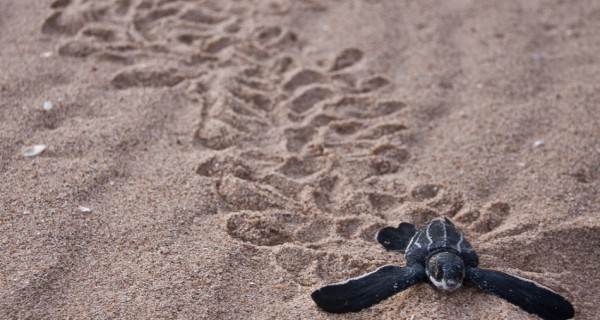 The Growth of the Drug Trade: More Than Just a Stopping Point
Lack of enforcement of environmental standards is a major issue preventing Costa Rica's slew of environmental laws and projects from actually coming to fruition. The country does not have a standing army, and its police force, which consists of 11,000 policemen, has not been able to ward off the large number of poachers who roam the natural beaches. [13] Many areas remain virtually unguarded, and the country's government has done little to enforce any preexisting environmental laws that protect sea turtles, an endangered and extremely valuable species that faces severe risks. [14] Nonprofits must step in and deploy volunteers like Mora to ensure that the species is not wiped out.
Activists are most threatened by the growing illicit narcotics trade that has come to afflict the country. Located halfway between South America and the United States, home to one of the hemisphere's largest producers and consumers of cocaine respectively, Costa Rica has become an increasingly important route for the flow of drugs in recent years. Moreover, consumption within the country has grown dramatically, and major distribution points have been flourishing. Along the country's beaches, many cocaine users have turned to poaching as means to fund their addictions. [15] Nests are ransacked on a daily basis, as turtle eggs are extremely lucrative in the black market. Volunteers who protect the beaches are thus highly vulnerable to the dangers of drug trafficking. Mora, who had been diligently working with other WIDECAST volunteers to gather the sought-after turtle eggs and guard them in sheltered hatcheries, was most likely attacked for his involvement in conservation efforts. WIDECAST's Costa Rica Coordinator Didiher Chacón told the Tico Times, "It seems like it was an act of revenge. He didn't drink. He didn't smoke. He wasn't involved in those kinds of things. We think it must have had to do with his work." [16]
Mora's death highlights the severe risks faced by environmental volunteers. Shortly before his death, Mora attested to his own fears when interviewed by La Nación, the country's leading newspaper. "Yes it's scary," he said. "The worst could happen at any time." [17] Death is a real threat to environmentalists across Latin America. In 2011, Brazilian activists José Cláudio Ribeiro da Silva and his wife Maria do Espírito Santo were killed outside of their homes in the Amazon while fighting to protect their land from loggers and charcoal producers. [18] Similar to Mora's case, many environmental groups were outraged by the government's failure to bring about justice for these activists. These tragedies serve as blatant examples of how governments fail to prioritize environmentalism and also fail to allocate the funds needed to ensure that their countries' natural habitats attract more than token protection.
Conclusions
While the arrest of Mora's killers shows some initiative on the Costa Rican government's part to make up for its past negligence on conservation efforts, some are skeptical as to whether the efforts will be maintained once international attention dies down. At a vigil held in San José, Costa Rica's capital, social psychologist Carolina Rizo told National Geographic, "The government has failed in its responsibilities. It's been left to young volunteers to do what the state should do." [19] Although Costa Rica's policies place it as a world leader in environmental conservation, the government's unresponsiveness towards harmful practices, such as greenwashing and poaching of turtles, demonstrates that these policies may stem from economic interests rather than a true commitment to environmental protection. If Costa Rica is to maintain its popular reputation as the greenest country in the world, it must invest in better enforcement in order to address the environmental dangers of a growing drug trade and commit, without reservations, to protecting its now precious wildlife.
Jennifer Bisgaier, Research Associate at the Council on Hemispheric Affairs
Please accept this article as a free contribution from COHA, but if re-posting, please afford authorial and institutional attribution. Exclusive rights can be negotiated.
For additional news and analysis on Latin America, please go to: LatinNews.com and Rights Action
[1] Johnson Terrell, "Costa Rica a Model Nation on Environment," The Weather Channel, April 19, 2013, http://www.weather.com/news/science/environment/cantore-costa-rica-earth-week-20130418.
[2] Inside Costa Rica, "How Costa Rica Is Saving the Environment," last modified February 22, 2012, http://www.insidecostarica.com/dailynews/2012/february/22/costarica12022203.htm.
[3] Ibid.
[4] Costa Rica Tourism, "Costa Rica Protected Areas," accessed August 15, 2013, http://www.tourism.co.cr/costa-rica-protected-areas/index.html.
[5] Jonathan Watts, "Costa Rica State Zoo Closures May Face Legal Battle," The Guardian, August 15, 2013, http://www.theguardian.com/world/2013/aug/15/costa-rica-zoo-closure-controversy.
[6] United Nations Environment Programme (UNEP), "Costa Rica: A Leader in Sustainable Practice and Policy," accessed August 15, 2013, http://www.unep.org/forests/Portals/142/docs/Costa_Rica.pdf.
[7] Tim Rogers, "Costa Rica's President: It's Not Easy Staying Green," Time, October 10, 2009, http://www.time.com/time/world/article/0,8599,1927452,00.html.
[8] Prelle Cristina, "A Closer Look: Ecotourism in Costa Rica," Duke Department of Biology, last modified 2005, http://biology.duke.edu/bio217/2005/cmp8/costarica.html.
[9] Jaime Lopez, "2011 Tourism Statistics Post Significant Growth," Costa Rica Star, December 19, 2011, http://news.co.cr/tourism-statistics-post-significant-growth-for-2011/295/.
[10] Prelle, "A Closer Look."
[11] Inside Costa Rica, "How Costa Rica Is Saving the Environment."
[12] Julie Dasenbrock, "The Pros and Cons of Ecotourism in Costa Rica," American University: TED Case Studies, last modified January 2002, http://www1.american.edu/ted/costa-rica-tourism.htm.
[13] Douglas Marin, "Costa Rica Becomes Hub of Drug Cartels," Latin American Herald Tribune, http://laht.com/article.asp?ArticleId=349013&CategoryId=23558.
[14] Save the Turtles, Inc., "Sea Turtles." accessed August 15, 2013, http://www.costaricaturtles.org/costa_new_seaturtles.html.
[15] Scott Wallace, "Costa Rican Murder Shines Light on Poaching, Drug Nexus," National Geographic, June 17, 2013, http://news.nationalgeographic.com/news/2013/06/130617-costa-rica-environmentalist-murder-leatherback-turtle-eggs-poaching/.
[16] Lindsay Fendt, "Turtle Conservationist Jairo Mora Sandoval Found Murdered on Playa Moín in Costa Rica," Tico Times, May 30, 2013, http://www.ticotimes.net/More-news/News-Briefs/Turtle-conservationist-Jairo-Mora-Sandoval-found-murdered-on-Playa-Moin-in-Costa-Rica_Thursday-May-30-2013.
[17] Richard Conniff, "Justice Sought for Murder of Young Sea Turtle Conservationalist in Costa Rica," Take Part, last modified June 3, 2013, http://www.takepart.com/article/2013/06/03/Jairo-Mora-Sandoval-murder-for-sea-turtle-eggs.
[18] Jonathan Watts, "Two Convicted of Amazon Activists' Murders," The Guardian, April 5, 2013, http://www.theguardian.com/environment/2013/apr/05/amazon-activist-murder-trial.
[19] Wallace, "Costa Rican Murder Shines Light."