Off and Running — Peña Nieto's Domestic Agenda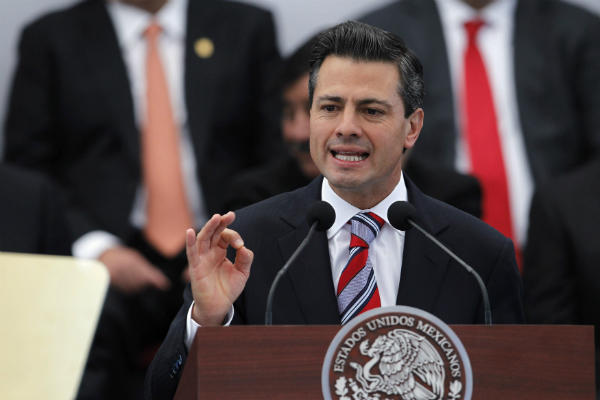 Elba Esther Gordillo, famously known as the "the Teacher" or "La Maestra," was arrested on February 26 for allegedly embezzling some $150 million USD. As head of Mexico's teachers' union for 24 years, Gordillo was known for her extravagant lifestyle, which included shopping at expensive clothing outlets, traveling on private jets, and purchasing luxurious properties in California. Unsurprisingly, many questioned how she could afford such extravagancies given her modest salary. [1] There is little doubt that Gordillo used her role as head of the teachers' union to her advantage, and that the corruption charges made against her are well founded.  But her arrest has further ramifications than just its effects on Mexico's educational system; it is a way for newly elected Mexican president, Enrique Peña Nieto, to demonstrate the lengths to which he will go in order to remove influential individuals who challenge his reform agenda.
Education reform was Peña Nieto's first priority when he entered into office last December; a surprising development, because during his presidential campaign he stated that he first intended to tackle energy and tax reforms in an effort to grow the economy by 6 percent in 2013 (Mexico's economy is predicted to grow by only 3.5 percent). [2] However, these issues are particularly contentious and sensitive for opposition parties, namely the Partido Acción Nacional (PAN or National Action Party) and Partido de la Revolución Democrática (PRD or Party of the Democratic Revolution). On the other hand, instituting education-related reforms was an easy place for these parties to find common ground. [3]
Gordillo had accumulated a number of enemies during her run as union boss, and her opposition to Peña Nieto's education reform pinned her as an easy target. Furthermore, the reform still requires a second law for implementation, which may have further prompted Gordillo's arrest. [4] Although PRD presidential candidate Andrés Manuel López Obrador (AMLO) criticized Peña Nieto's close ties to Gordillo, he was most likely still bitter from her decision to support Felipe Calderón in the 2006 presidential election (in which AMLO also ran and lost). Even though she supported Peña Nieto in 2012, he did not offer her any presidential appointments in return. [5]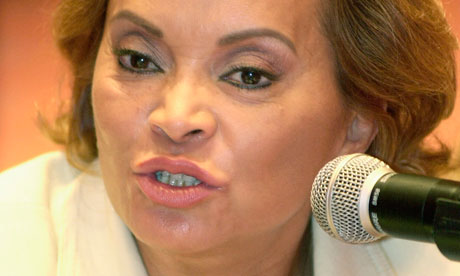 Peña Nieto's domestic agenda also includes reforms in telecommunications and broadcasting, followed by tax and energy.  With respect to the latter, the Partido Revolucionario Institucional (PRI) National Assembly just recently approved sweeping changes, which include value-added taxes (VATs) for food and medicine, and opening up Pemex to private investment. Various Mexican media outlets are reporting that Gordillo's arrest will deter the opposition from challenging Peña Nieto. [6] However, this assertion is incorrect, and the president will not be able to ride on the laurels of Gordillo's arrest in order to advance the rest of his domestic agenda.
Education Reform and Gordillo's Arrest
With education reform shaping up to be the staple of his first few months in office, it appeared as though Peña Nieto was taking the necessary steps to make good on one of the reforms as outlined in the Pacto por México (Pact for Mexico)—the top-down legislation signed by opposition parties PAN and PRD in December of 2012. [7] Whether Peña Nieto's actions were to obtain political capital or a sincere interest in the country's schools, Mexico's education system is in desperate need of reform; the Organization for Economic Co-operation and Development (OECD) ranks it as the worst performing system among member countries. [8] As an example of how dysfunctional the situation has become in recent years, the government is unaware of how many children and teachers actually exist in this fragmented system. [9]
In an effort to correct these problems, Peña Nieto's education reform is designed to weaken the grasp of the union's ability to hire and fire teachers. According to The Economist, "the government has promised that from now on teachers' jobs will no longer be for sale, or inherited. Teachers who fail assessments will face the sack." [10] Additionally, the education reform aims to increase the percentage of students graduating from middle and high school to 80 and 40 percent respectively, as well as extending learning hours in approximately 40,000 public schools. [11]
Although it is difficult to dispute the substance of Peña Nieto's education reform, there is a concern regarding the political nature of Gordillo's arrest. While Mexico City claims that their actions were not politically motivated, one cannot ignore the fact that Gordillo was highly opposed to this reform, and that passing a second law necessary for implementation would have been politically difficult had she been around to oppose it. During his presidential campaign, Peña Nieto repeatedly assured the Mexican population that a revitalized PRI would take office if he were elected—one that was free from autocratic governance and committed to democratic principles. However, Gordillo's arrest resembles the 1989 incarceration of Joaquín Hernández Galicia, a former boss of the oil workers' union. Then-Mexican President Carlos Salinas (also a PRI member) arrested Galicia after he opposed the president's attempt to open Pemex to private investment. [12]  Although the sectors in question are different, the circumstances appear eerily similar, the only difference being that Peña Nieto waited two months longer than Salinas to have a political opponent arrested.  Furthermore, the newly inaugurated president knew that her arrest would not cost him much political capital. According to The Guardian, Gordillo was an "ideal target" after having "accumulated a battery of enemies across the political spectrum and among the intellectual and journalistic elite." [13] In addition, as previously stated, education reform was an area in which opposing parties PAN and PRD could easily agree on. Although it is difficult to refute Elba Esther Gordillo's corruption, her arrest was clearly an assertion of power, and given PRI's history of authoritative governance, this raises serious concern.
Beyond Education
The Peña Nieto administration is now moving on to a number of other reforms in telecommunications, broadcasting, tax, and energy sectors. According to the Financial Times, "the next installment of Mr. Peña Nieto's reform agenda…is a constitutional reform of the competition laws, giving sharper teeth to industry regulators and Mexico's antitrust authority." [14] The most effected companies will be Televisa and Azteca (television broadcasting) and Tecel, the cell phone company that controls 70 percent of the market and is owned by the world's richest man, Carlos Slim. [15] These companies are highly influential and have a long history in controlling these markets, and according to PAN chairman Gustavo Madero, the reform will "change the whole board game." [16] Unfortunately for Peña Nieto, there is no Gordillo-esque boss of telecommunications. PRD and PAN officials, however, have agreed to the proposals, and it is likely that their agreement on the issue will allow for a smooth enactment of these accords.
With respect to energy and tax reform, the PRI National Assembly has already approved Peña Nieto's proposals. Tax reforms include implementing VATs on food and medicine, in order to acquire the "necessary funds to pay for infrastructure and social development programmes." [17] Energy reform, on the other hand, primarily pertains to opening up Pemex—Mexico's state-owned oil company—to private investment, which according to the president "will be an engine for investment and development." [18] PAN and PRD spokesmen Luis Alberto Villarreal and Silvano Aureoles, respectively, rejected the idea that the Pacto por México was in jeopardy as a result of these proposals. [19] Both sides have yet to take a clear position on these issues, although it appears as though they are willing to discuss them in greater detail in order to make the necessary changes. It's important to highlight, however, that some in the PRD are not on board with Peña Nieto's proposals. The PRD has been highly fragmented, and political leaders within the party, such as Carlos Reyes Gamiz, have never fully agreed with the reforms as outlined in the Pacto por México.   In regards to Peña Nieto's most recent tax and energy proposals, Gamiz stated that pact is almost fully broken. [20]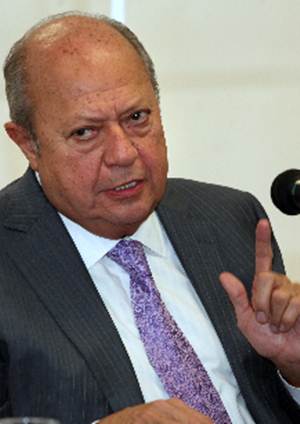 Tax and energy reforms are the most contentious issues in Mexican politics, and therefore, will not receive the same tri-partisan support, as did the education reform. It's interesting that Carlos Romero Deschamps, a PRI senator and head of the oil workers' union, best resembles a Gordillo-like figure. He recently bought his son a Ferrari and his daughter has been spotted vacationing on a yacht. [21] However, Peña Nieto has repeatedly stated that Pemex will not be fully privatized.  As a result, Deschamps is not likely to oppose Peña Nieto's reforms, and it will be very surprising if the president pursues the PRI senator on corruption charges.  Ultimately, advancing his agenda will depend on how well Peña Nieto can reach across the aisle with members from the PRD and PAN, because without their support, the Pacto por México is all but doomed.
Looking Forward: Vigilance and Patience 
President Peña Nieto's early pursuit of education reform used sound logic, because it was an issue in which the three major Mexican political parties could find common ground. Tax and energy reforms will be more difficult, but if an agreement between all three parties is made, it will be the result of savvy political skills, since forcefully removing union bosses is no longer an option.  In order to quell fears that Gordillo's arrest was politically motivated, the Peña Nieto administration should demonstrate a political will to prosecute charges of corruption regardless of political affiliation. Although it is unlikely that Peña Nieto will take down a senator of his own PRI party, investigating Carlos Romero Deschamps would be an effective start at demonstrating a high level of commitment to democratic principles. [22] If Peña Nieto is truly committed to ridding Mexico of corruption, it will require him to act independently of political allegiances. This process not only calls for patience, but it also requires vigilance; the Mexican population can only hope that Peña Nieto has plenty of both.
Gene Bolton, Research Fellow at the Council on Hemispheric Affairs
Please accept this article as a free contribution from COHA, but if re-posting, please afford authorial and institutional attribution. Exclusive rights can be negotiated.
For additional news or analysis on Latin America, please go to: Latin News
---