Reflecting on the Fire in Santa Maria: Who is to Blame: the Law or the People?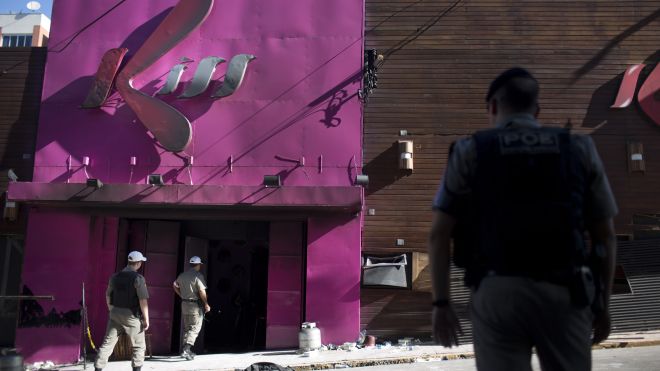 The fire in Santa Maria, in the south of Brazil, during the early hours of January 27, 2013, quickly emerged as one of the country's most heart-wrenching tragedies. The incident at the nightclub Kiss left more than 230 individuals dead. [1] The fire is believed to have begun during a concert by the band 'Gurizada Fandangueira', through the use of illicit pyrotechnic devices on stage. Following the attempt to use a damaged fire extinguisher, the flames quickly spread into the ceiling due to a flammable material used for soundproofing, which produced the toxic black smoke that killed 90 percent of the victims. [2]
As the country tries to move on from this tragedy, families of the victims demand justice. However, the question remains as to who is to blame for this extraordinary misfortune. Should Marcelo Santos, the band vocalist, who used pyrotechnic devices in an enclosed space be the one to blame? Or should club owners, Elissandro Spohr and Mauro Hoffman, who did not follow proper state safety laws, be held responsible? Notwithstanding these parties the government must always bare ultimate responsibility in the prevention of such incidents.
Understanding safety laws and regulations
Regardless of who might ultimately be prosecuted by the Brazilian justice system, the world has been shocked over how such a catastrophe happened in the first place. Perhaps it is time to take a closer look at the laws in place and reevaluate their enforcement. How do establishments, such as Kiss, continue to get away with violations of the building code and expired licenses?
According to police experts there are several factors that played a role in the fire which devastated the Santa Maria community. First, the material used for acoustic insulation was not the most suitable, and not only created the black smoke that killed most of the victims, but it also helped spread the flames. Second, the pyrotechnic cartridge devices used on stage by the band were of inferior quality and more suitable for outdoor use. The third factor was the overcrowded venue. The nightclub had capacity for 961 people, but the police estimated an audience of about 1,300 on the night of the fire. The fourth and last contributing factor was the single access door of reduced size and the numerous railings that prevented a quick exit of a large number of people. [3]
Even worse were the conditions under which the night club operated. Kiss had no emergency exit, no fire alarm, no sprinkler system, and a single fire extinguisher that failed to operate. The Santa Maria city government has copies of the club's floor plan, but the establishment went through several major renovations over the years without permission from municipal authorities. The license provided by the local fire department had also expired as of August 10, 2012. [4] The city of Santa Maria claims that its responsibility was only the location license, while the expired fire protection license was under the fire department's responsibility. The club owner maintains that he had already put in a request for the renewal of said license. [5]
While blame is shifted between officials, and Brazilians continue to seek answers, it is clear that such a tragedy could have been easily prevented if only citizens and government agencies worked together in promoting and following safety laws. Sadly, the general position regarding emergency procedures such as fire drills and other safety requirements is too relaxed; many Brazilians believe such regulations are superfluous precautions.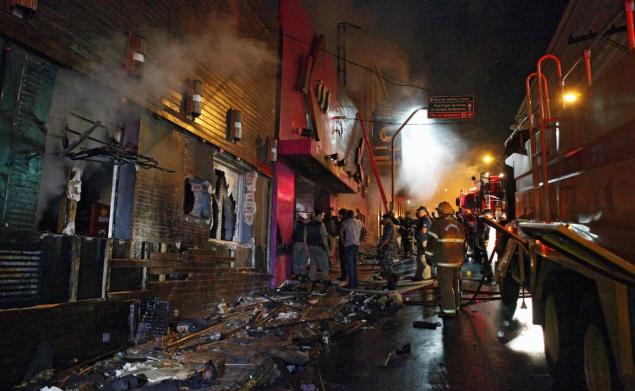 Putting the Fire into Context
Brazil is so mired in bureaucracy that, even though laws regarding emergency procedures are in place, they take inordinate time and money to be implemented causing many citizens and government officials not to follow them properly. In fact, this is true not only regarding safety laws, but many other laws in Brazil. The excessive Brazilian bureaucratic system and red tape contaminates the public sector as well as private initiatives. There is a long and expensive process to start up a business in the country, providing entrepreneurs the incentive to either 'dodge' the law or bribe officials in order to have their affairs quickly resolved.
Alongside civilian dishonesty, we also see government officials turning a blind eye on these illicit actions in order to, not only make money, but also avoid the time, headache, and paperwork involved in dealing with these situations. According to a report by Transparency International, "corruption is particularly prevalent in business dealing with local level governments." [6] Using the 2012 Corruption Perceptions Index, which is based on how corrupt a country's public sector is perceived to be, Brazil scored 43 out of 100. Scores range from 0 (highly corrupt) to 100 (very clean). [7]
Therefore, we ask ourselves again, who is to blame for this tragedy? Is it the law or the people? Are the laws excessive, unclear and superfluous, or are the culture and customs of Brazil preventing average citizens from following regulations? This vicious cycle of corruption depicts a society in which excessive rules and high tolerance to deviation have live together in the daily operations of the public and private sectors.
There are still many places throughout the country and the Latin American region, in which red tape and bureaucracy hinder the legal process. The fire at Kiss is far from unique. Deadly nightclub fires in Latin America have been seen in other places such as Argentina in 2004, Peru in 2002, Mexico in 2000, and Ecuador in 2008. [8] Unfortunately, it takes a tragedy like the one in Santa Maria for people to begin putting forth a better effort to prevent such incidents. The hope is that as prosecutors open a civil investigation looking into administrative and governmental negligence for allowing the club to continue running on expired licenses, it will serve as a warning to other government agencies throughout the country to do something about it.
Amandha Lopes, Research Associate at the Council on Hemispheric Affairs
Please accept this article as a free contribution from COHA, but if re-posting, please afford authorial and institutional attribution. Exclusive rights can be negotiated.
For additional news or analysis on Latin America, please go to: LatinNews.com 
---
References
[1] "Como foi a tragédia em Santa Maria, RS," Globo.com, last modified February 1, 2013, http://g1.globo.com/rs/rio-grande-do-sul/tragedia-incendio-boate-santa-maria-entenda/platb/. 
[2] "Tragédia em boate no RS: o que já se sabe e as perguntas a responder," Globo.com, last modified February 1, 2013, http://g1.globo.com/rs/rio-grande-do-sul/noticia/2013/01/tragedia-em-santa-maria-o-que-ja-se-sabe-e-perguntas-responder.html. 
[3] Ibid.
[4] Matsuki, Edgard, "Incendio na Kiss foi sucessão de 'erros primarios', diz presidente do Crea-RS; deputados querem lei federal para boates," UOL, February 19, 2013, http://noticias.uol.com.br/cotidiano/ultimas-noticias/2013/02/19/predio-nao-cai-sozinho-diz-representante-do-crea-rs-sobre-incendio-em-santa-maria.htm. 
[5] "Tragédia em boate no RS: o que já se sabe e as perguntas a responder," Globo.com, last modified February 1, 2013, http://g1.globo.com/rs/rio-grande-do-sul/noticia/2013/01/tragedia-em-santa-maria-o-que-ja-se-sabe-e-perguntas-responder.html. 
[6] "Corruption by Country/Territory, Brazil," Transparency International, last accessed February 21, 2013, http://www.transparency.org/country#BRA. 
[7] Ibid.
[8] Baida, Aiyana, "Brazil, Mexico And Other Deadly Nightclub Fires in Latin America," Huffington Post, January 28, 2013, http://www.huffingtonpost.com/2013/01/28/nightclub-fires-latin-america_n_2564738.html.